[Updated!] How to Free Download 4K 60fps HDR/XDR Videos from YouTube
Learn how to perform 4K 60fps videos free download
This is an era of 4K. In recent years, 4K related news come up constantly. YouTube, as a popular video streaming website, also wants to keep pace with times bringing viewers new video streaming experience. In 2014, YouTube tested both 60fps and 4K videos separately, and quickly in March 2015 YouTube tested a handful of 4K videos at 60 frames per second. When we choose 4K 2160p 60fps option from the YouTube gear icon, we can get sharper video. What's more, it is obvious that the movement appears far smoother than at more common frame rates of 24fps and 30fps. And the arrival of new iPhone 11/Pro that has the knack for shooting 4K videos at 60fps in extended dynamic range pushes 4k 60fps to a new high. So in this post, you will be leaded to learn the requirements of watching 4K@60fps videos online on YouTube as well as how to free download 4K 60fps videos, GoPro, DJI drone or iPhone 4K videos or 4K movies for example, for offline use.
Requirements of Watching YouTube 4K 60fps Videos Online
To watch YouTube 4K 60fps videos in all their glory, firstly you need to have a computer with a display capable of managing 3840×2160 (4K) resolution and a GPU powerful enough to export at that detail at 60 frames per second. In addition, you need extremely fast internet connection to ensure smooth 4K 60fps video streaming. But if your network is slow, you'd better download the 4K 60fps videos from YouTube for offline playback fluently.
Best Free 4K 60FPS Video Downloader
WinX YouTube Downloader can free download 4K HDR videos movies at 60fps with ease. Moreover, it can save SD/720P/1080P/1440P HD/4K/8K/3D movies, TV shows, songs and more from YouTube, Dailymotion, Metacafe, Vimeo, and other 1000+ sites easily. 100% clean and safe. Less bandwidth required and fast downloading speed.
How to Free Download 4K 60fps Video from YouTube?
It is known to all, YouTube doesn't come with a download option. If we want to download YouTube videos, including those 4K videos at 60 frames per second in either high or extended dynamic range, we need to have a third-party YouTube video downloader installed on our computer. YouTube downloaders are easy to find in the market, while a 4K@60fps video downloader is rare. But you don't need to head to the web and struggle to dig out one for 4K 60FPS, because a powerful clean yet free 4K 60fps downloader will be introduced here, namely, WinX YouTube Downloader.
By test, this application can free download 4K 2160p UHD videos at 60fps from YouTube quickly without quality loss, thanks to the built-in High Quality Engine, Multicast and Multi-thread Technologies. Besides, it can also be applied to download 8K videos movies at 60fps, 1080p, 720p HD at 120fps/60fps/30fps and SD videos from Dailymotion, YouTube, Vimeo and other 1000+ video sites. NO adware, spyware, malware, virus and the like.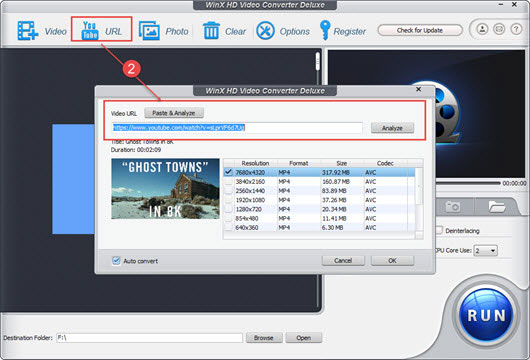 Guide to free download 4K 60fps sample video/movie
First of all,

download 4K 40fps video downloader on your PC. And then install and launch it. When it is ready, just run this tool as the steps below.
1. Click the +link button on the downloader to get into a new panel where you are asked to insert the URL of target 4K 60fps video. You can use search term "4K 60fps" to find some 4K 60fps HDR/XDR sample videos/gameplay/walkthrough/GoPro action camera/DJI drone videos.
2. Tap Analyze button to fast load the video title, duration and available output options. To save 4K ultra HD videos at 60fps videos, please choose the output with 3840 x 2160 resolution and then hit Ok to move on. If 4K 60fps is too big for you, converting 4K 60fps to 4K 30fps to compress video file size would be a good option.
3. If you want to save multiple 60fps 4K videos at one go, simply repeat the first two steps before any further. If not, just hit Download button to start downloading 60fps 4K videos from YouTube.
Related external resources:
[1] 4K – 4K, also called 4K resolution, refers to a display device or content having horizontal resolution on the order of 4,000 pixels...
[2] Understanding Frame Rate – Uncovering The Truth Behind 30 VS 60 FPS
Problems with 4K 60fps video
1. 4K video either in high dynamic range or extended dynamic raneg will definitely result in huge file size, which will quickly swollow up your device or drive's storage space. You will need to compress 4k 60fps video first to a friendly and smaller size first.
2. Processing of 4K videos is demanding. It asks for modern hardware. Or else, playback or editing 4K video at 60fps or even 30fps will be stuttering, lagging and even lead to software crash. Consequently, converting the downloaded 4K 60fps video to a regular 1080p/720p video for a smooth playback or editing is a must have.
3. Downloading 4K 60fps video doesn't necessarily mean you can upload it with ease. In generally, it is slow to share the huge size video and the image will be blurry due to inadequate compression of the social media itself.
If you need to convert/compress 4K 60fps videos to 1080p/720p 60/30fps MP4, AVI, WMV, MOV, MKV, HEVC, MP3, iPhone, iPad, Samsung, HTC, Sony, Windows Phone, or other formats or devices, so as to reduce the 4k 60fps video size to save space and make it playable or sharable, just try hardware-accelerated WinX HD Video Converter Deluxe. It can not only convert/compress 4K UHD videos at 60fps, but also free download 4K 60FPS videos from YouTube and other sites.