Best Hardware Accelerated 4K/1080p HD Video Compressor for PC/Mac
HD (high definition) always keeps its fever in couples of years and has been developed to a higher level of resolution from 1080p to 4K 2160p and 8K 3420p. At present, we can easily create and access 4K/1080p HD videos with our mobile phone or (digital/action) cameradue to a wide range support by TV and online video streaming services (YouTube, Vimeo, Netflix and more). And, issues come out as well. Large size and high requirements for playback of 4K/1080p videos prevent us from enjoying or sharing HD videos in a smooth way. Questions as below spring up like mushrooms:
"I made a 4K video with Sony Vegas and it is about 1.5 minutes long of Call of Duty. It is about 30 GB. It is for YouTube, so I cannot upload something that big. How can I compress 4K videos while retaining a possible highest quality?"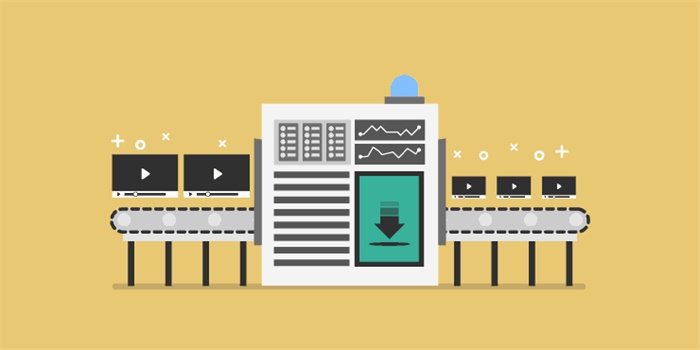 If you are struggling to find a way to reduce 4K/1080p video file size for online uploading or other purposes, the best 4K/1080p video compressor introduced here can achieve your wishes in a breeze. It can easily compress 4K/1080p videos at a superfast speed with hardware acceleration supported.
Best Hardware-accelerated 4K, 1080p, HEVC, H.264 Video Converter for Windows (10) and Mac
– Shrink (GoPro/DJI/iPhone) 4K/1080p videos on computer at fastest speed.
WinX HD Video Converter Deluxe
– Best professional 8K/4K/HD video converter enables you to flawlessly compress (GoPro/iPhone)4K/1080p HD videos, 4K H.265/HEVC, 4K H.264 videos, etc. with original quality at fastest speed with Intel QSV- and Nvidia-enabled hardware acceleration.
– Easily convert MKV, M2TS, AVCHD, MOD, HD camcorder videos, 4K/1080p drone videos, and standard MP4, AVI, MPEG, WMV, MOV, VOB, FLV, RMVB, WebM, etc. 370+ output video/audio codecs and 420+ device profiles are provided.
The Best Hardware Accelerated 4K/1080p Video Compressor for Windows (10) PC/Mac
There are several elements affecting video size and quality. The most important one is bitrate. Generally speaking, a more-effective video codec can output better image quality at the same bitrate, for example HEVC (aka. H.265). Besides, other parameters including frame rate, resolution, aspect ratio have impacts on size and quality of a video as well. Therefore, we should have a program which can fully support editing video bitrate and other parameters as well as re-encoding video files for 4K/1080p compression.
WinX HD Video Converter Deluxe is not only a video converter as its name, but a powerful 4K/1080p HD video compressor available to convert and compress 8K/4K/1080p videos to 720P, 360P in formats MP4 (encoded with HEVC, H.264 or MPEG4), AVI, WMV, FLV, 3GP etc, while keeping vivid images and hi-fi audio. It also enables us to directly compress 4K/1080p HD videos to iPhone, iPad, Android, Windows Phone, Sruface Book/Pro, Xbox, PS3/4 and other popular devices for playback HD videos without trouble. Advanced technologies, Hyper-threading, Multi-core CPU and Hardware Acceleration Transcoder (Nvidia NVENC & Intel QSV) support, helps this top 4K/1080p video compressor deliver No.1 fast conversion and compression speed. It is perfectly compatible with Windows 10, 8.1, 8, 7, while the Mac version is available to run on macOS Catalina and lower.
See also: How to Convert 4K to 1080P with HandBrake
How to Compress 4K/1080p Video with Hardware Acceleration on Windows (10) PC/Mac
Preparation: Free download and install WinX HD Video Converter Deluxe on your PC. Mac users please turn to WinX HD Video Converter for Mac.
Step 1. Launch this hardware accelerated 4K/1080p video compressor and then click +Video button to import the 4K UHD or 1080p HD video you want to compress.
Step 2. Output Profile window pops up. Select one video format or device as resulting profile according to your needs. To reduce file size without sacrificing quality, you can choose HEVC Video (MP4 file format with HEVC codec) under General Profiles. For broader compatibility, MP4 format encoded with H.264 is a good choice.
Step 3. The video will be presented in the convert list. Click setting gear and a window for parameter adjustment will appear. Lower Bit Rate, Frame Rate, Aspect Ratio, Resolution to the most appropriate value. The audio parameters can be edited as well.
Step 4. Check the hardware acceleration options based on your computer equipments to quicken the video processing. WinX HD Video Converter Deluxe supports Intel QSV, NVIDIA CUDA/NVENC hardware acceleration and it is the only level-3 (hardware decoding + processing + encoding) hardware accelerated video converter software.
Step 5. After all settings are done, hit Browse button to save the compressed video to destination folder and click RUN button to start compression progress of the 4K/1080p video at ultrafast speed.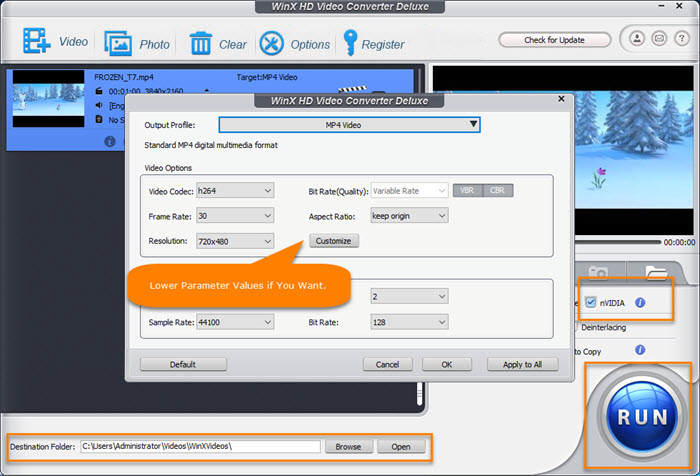 See also: Upscale 1080p to 4K, compress 4K to 1080p video, Best MP4 Compressor for Windows 10; Compress Large 4K/2.7K Gopro Videos
More Features of the Hardware Accelerated Video Transcoder - WinX HD Video Converter Deluxe
• Free download 8K/4K/HD/SD/3D movies, music videos, MP3 songs, etc, from 1000+ sites, like YouTube, Vimeo, Dailymotion, Facebook, Instagram, in a flash.
• Trim a single video to several clips; crop video by removing unwanted black bars, add subtitles (.srt) for video and merge multiple videos into a single one.
• Create photo slideshow video from an album to MP4, AVI, WMV, MOV, FLV, 3GP etc, for sharing with friends or uploading online.
Related External Source:
4K resolution: 4K Ultra HD (4K UHD) video itself refers to the video of a pixel resolution of 4096x2160 (4,000 pixels, 8.8 megapixels, 17:9 aspect ratio) mainly for digital cinema, or of a resolution of 3840× 2160 (8.3 megapixels, 16:9 aspect ratio) mainly for Ultra HD television. It is four times of the resolution of 1080p HDTV...
1080p: 1080p (also known as Full HD or FHD and BT.709) is a set of HDTV high-definition video modes characterized by 1080 horizontal lines of vertical resolution and progressive scan, as opposed to interlaced, as is the case with the 1080i display standard. The term usually assumes a wide screen aspect ratio of 16:9, implying a resolution of 1920x1080 (2.1 megapixel) often marketed as Full HD...
Please feel free to share this tutorial if you think it is helpful!