How to Compress A Video Free without Losing Quality
Compressing a video not only frees up space, it also helps when you share interesting GoPro/DJI/camera/iPhone videos with other via YouTube, Facebook or Email. Let's turn the rocket science into an easy task with the programs we share here, which can compress a wide range of videos to the file size for different uses, reduce video size 90% off! Meanwhile, the image quality won't get drowned. The following text will show you how to free reduce a video on Windows, Mac, Android, or iPhone, respectively.
Part 1. How to Compress a Video Free on Windows (Windows 10/8/7)
You can easily compress a video on Windows using one of the following video compression software. Some are well-established programs such as WinX Video Converter, some are open-source tools such as Handbrake. When looking for a desktop video compression program, note that the ability to handle CPU-intensive 4K UHD video compression is a must. Compression ratio and output quality are also important factors you need to consider. Here we gather top 5 video compression software for Windows (Windows 10/8/7) for your reference. For more details, read our top 10 video compression software review.
WinX Video Converter
Freemake Video Converter
Handbrake
Any Video Converter
VLC Media Player
Free Video Converter will help you free convert video formats (e.g.: MKV to MP4, H.265 to H.264, MTS to AVC), change video resolutions, or turn the video definition, for example, from 4K 2160p to HD 1080p/720p, etc. The video compression software can reduce video size 90% off with up to 98% video quality reserved. It is the No.1 fast and clean video converter freeware. Here we take WinX Video Converter to show how to compress videos on Windows. Before getting started, free download WinX Video Converter on Windows.
Step 1. Add a video file.
Click the Plus Video button on the top left of the interface. Browse through your computer, click on the video you need to compress, and hit Open button to add the video source from your Windows (10) PC. WinX Video Converter allows you to add more than one video at a time for batch compression.
Step 2. Convert the video format.
Choose a desired output format among what are listed in Output Profile Category. Optionally, change the quality bar to LQ (Low Quality) if you don't mind much on the image effect.
(Note: Compressing 4K to 1080p video and converting a video from one format to another may reduce the file size, since different video format containing different video Codecs may use different compression techniques. The free video compressor supports a large variety of video formats, be it for inputting or outputting. Especially, various output profiles are built in the software such that users can choose directly. Specifically, it has device profiles for Apple (iPhone/iPad/Apple TV/iTunes), Android, Microsoft, Sony, BlackBerry and Nokia, web video profiles for YouTube, Facebook, Vimeo, as well as PC and Mac general videos. For regular use, we recommend MP4 format.)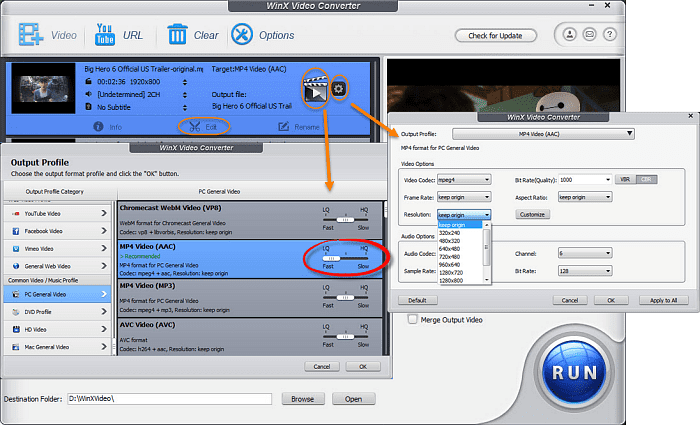 Step 3. Edit video resolution and so on.
Click the gear-wheel-shaped icon, and go to the "Edit" state:
1. You can change "Resolution" from Keep origin to a lower one. For example, 640x480 is a standard definition that is the most common video resolution for YouTube, Facebook, iPhone, iPad, Android, Windows Phone and the like;
2. You can cut "Frame Rate" from generally 30/29.97 fps to 23.97 or 25;
3. Bit rate, sample rate for audio can be set lower to get a smaller size.
Step 4. Disable the subtitle track and avoid multiple audio tracks.
If the movie or video has multiple subtitle tracks in the language you can actually understand, there is no need to use the subtitle. So, choose "Subtitle Disabled" in the Subtitle option. Reduce the audio tracks as many as you can in the Sound item.
Note: The "Subtitle" feature also enables you to add Extra subtitle (.srt) files downloaded from the internet.
Step 5. Reduce time length of the video optionally.
Click the scissors icon and enter the detailed setting Window. Tap "Trim" button, check "Enable Trim" and cut down the unwanted part of the video, which is also a feasible way to reduce the large video size.
Step 6. Click "RUN" to start.
Do not choose "Use High Quality Engine" or "Deinterlacing" option if you need your HD video better compressed. Uncheck "Safe Mode" button and choose a higher CPU Core Use if you want a faster conversion process. Then click "RUN" button and start the conversion and compression at the same time.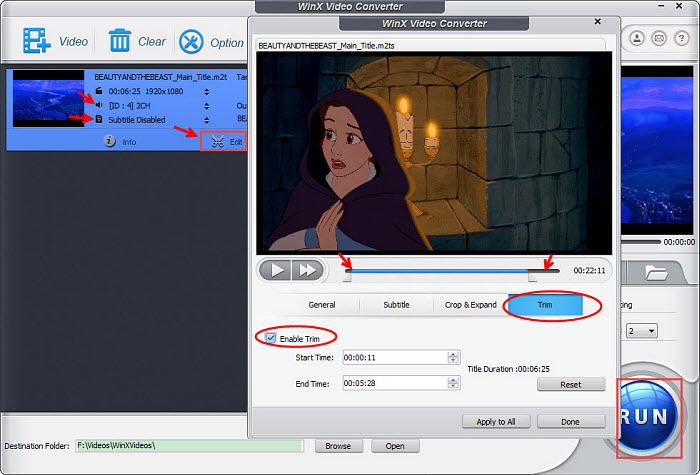 Learn More on Video Tutorial:
Part 2. How to Compress a Video Free on macOS (Catalina and Big Sur incl.)
"I end up with finding no good video compressor on Mac for shrinking videos for iMovie, Email and so on, since the output video image is always not as expected. Is there any freeware to compress a video on Mac easily?"
In fact, some Mac's built-in tools have video compression features, such as Finder, QuickTime Player, iMovie, to name a few. Below are top programs you can use to compress a video. Considering compression efficiency and quality, we recommended WinX Video Converter for Mac. Free download WinX Video Converter for Mac and follow the steps to compress videos on Mac. Shrinking a video on Mac OS using WinX Video Converter for Mac (free & clean) has much in common with that on Windows.
WinX Video Converter for Mac
iMovie
QuickTime Player
Finder
Avidemux
Step 1. Import video file.
Add one or more (HD/4K) video file to be compressed from your Mac by clicking "+" button.
Step 2. Choose the output format.
Select MP4 Video with codec h264+aac because H.264 and AAC can output a quite small size nearly without quality deterioration.
Step 3. Change output profile in Tool bar.
You can change Video/Audio Codec, Frame Rate, Aspect Ratio or audio channel, and customize Resolution for a smaller file size to output.
Step 4. Edit the video.
In "Edit" tab in the File List window, Subtitle can be disabled and Trimming can be enabled by adjusting the Start Time and End Time.
Step 5. Set the Destination Folder.
After setting, click Browse button on the bottom left and choose a destination folder to save the output file.
Step 6. Start free video compression.
Click "RUN" button to begin free video compression. Any kinds of videos can be compressed to your satisfaction.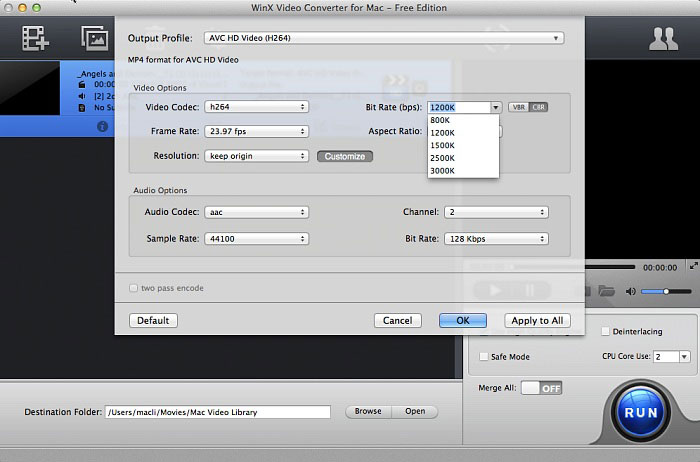 Part 3. How to Compress Video File Size Easily on Android
There are many video compression apps you can download on Google Play Store. Such apps can reduce a video size easily in a click on Android for sending to email, Instagram, Whatsapp, Facebook, etc. Check for the following list of top 5 video compression apps for Android. Please note that most video compression apps for Android contain ads and pop-up purchase.
Video Compress
Video Compressor - Compact Video
Video Compressor - Video to MP3 Converter
Video Compressor - Fast Compress Video & Photo
Smart Video Compressor and resizer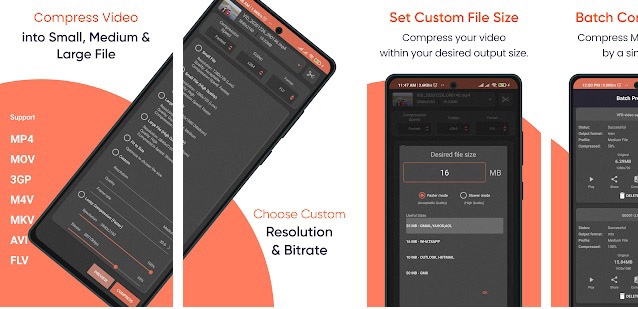 Use the steps below to make video file size smaller on Android. The app Video Compressor - Compact Video is used here. It's quite to learn how to get started. Get a video compression app for Android and tap the video to launch it.
Choose the video you want to compress on Android. The app supports MP4, MOV, 3GP, M4V, MKV, AVI, and FLV video formats.
Choose video resolution and bitrate for a smaller file size. Set custom file size you want.
Start compressing a video on Android. Done.
Part 4. How to Make Video File Size Smaller on iPhone
Compared to apps for compressing a video on Android, there's fewer choices when it comes to video compression apps for iPhone iPad. We gather the following top free apps for you to reduce video size on iPhone to save space and to share videos to Instagram, Facebook, Whatsapp, etc. These apps also contain ads and pop-up purchase.
Video compressor - save space
Video Compress - Shrink Vids
Video Compressor - Reduce size
Video Compressor & Editor
Video Compressor - Video Edit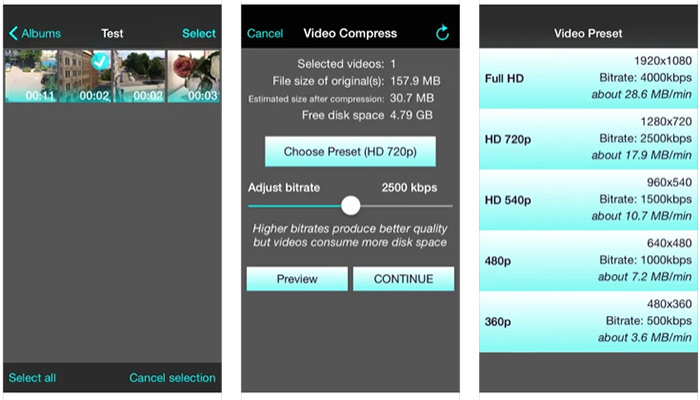 Video Compress - Shrink Vids is the most recommended app on the list. To compress a video on iPhone,
Select one or multiple videos you want to compress.
Choose Preset, 1080p, 720p, or lower for smaller file size.
Lower down video bitrate. tap the Preview to play the video, and tap CONTINUE to finish the video compression job.
FAQs on Video Compression:
How to Compress a Video to Email to Family and Friends?
Q: I need to clarify a question regarding being able to email a 12 minute video to family and friends. I have converted the original from my iPhone 6 to both mp4 or m4v formats. Is there a way to convert it one more time to a small enough format to go as an email attachment? I use Gmail currently. I believe it gives me about 25 mb maximum.
A: It is necessary to reduce video files into smaller size or convert HD/4K video like MKV, M2TS, H.265/HEVC to a more compressed video format (such as MP4, AVI, WMV) for email. Read detailed guide of compressing video for email.
What Are the Best Software for Compressing a Video on Windows 10/Mac Computer?
Q: I've tried a good many video shrinking tools, such as Movavi Video Converter and Freemake Free Movie Maker, but none is completely agrees with my wishes. Would you recommend the best video compressor in the world?
A: The best video compressor in the planet is WinX HD Video Converter Deluxe (having Win and Mac versions), which has the following features with no limit: