Posted by Kaley Torres - Contact Author

[Solved] Can't Import HEVC Videos to Adobe Premiere Pro

If you are searching for an easy solution, click here: The solution most recommended by us [85%]
Adobe Premiere Pro Won't Import HEVC Videos Properly? It'll Be Fixed Easily Here!
As HEVC is able to save nearly half bit rate of H.264 with the same high quality, photographers are rushing to capture videos in HEVC codec by iPhone, DJI Phantom/Mavic drone, Canon camera, or other devices. However, they find that sometimes Adobe Premiere Pro failed to import HEVC videos shot in MOV, MP4 or other native supported formats. For example, the audio works but you're greeted by a green screen. Or you get error messages like "codec missing or unavailable", "File format not supported", "Unsupported format or damaged file", etc.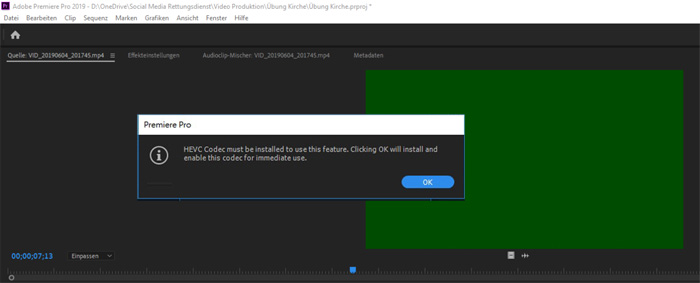 Why your HEVC videos cannot be imported to Adobe Premiere Pro? This error can be caused by a variety of reasons. Maybe your Adobe Premiere Pro version is too old to support HEVC codec. HEVC codec is missing in your Adobe Premiere Pro. Your HEVC video is adopted with VFR, which will slip audio out of sync with the video inside Premiere Pro. Besides, an underpower computer can also cause errors like HEVC not importing to Premiere Pro, HEVC videos not playing, or slow HEVC encoding in Premiere Pro. Such being the case, how can you fix the Premiere Pro not importing HEVC error?
Solution 1: Convert HEVC to H.264
As mentioned, the cause of HEVC not importing to Premiere Pro error lies largely in the poor computer hardware. If you don't plan to replace it with a better one, converting HEVC to H.264 would be helpful for smooth importing, and even playing on your current computer.
WinX HD Video Converter Deluxe offers the easiest yet effective solution to make this done. You're able to transcode any videos encoded in HEVC codec to H.264, not only sticking to the original container format, but also converting to a different video format, such as converting MKV HEVC to MP4, AVI, MOV in H.264 codec etc. It also allows you to compress 4K resolution to 1080p/720p, which is better fitted to smaller screens or less-powered computer. Besides, with the support of GPU hardware acceleration, this 4K HEVC video converter is able to decode and encode HEVC at superfast speed while keeping crisp images.
Download and install the HEVC video converter following the wizard steps. Then convert HEVC to H.264, which is perfectly supported by Adobe Premiere Pro within 3 steps.
Step 1. Launch the program and click +Video button to add the Adobe Premiere Pro unrecognized HEVC files. You can import multiple HEVC videos at once for batch conversion.
Step 2. Select an H.264-encoded format for the output video. MP4 is always preferred for better compatibility on any devices and screens. Just click General Profiles > MP4 Video (h264+aac) > OK. Of course, you can also convert HEVC to MOV, MPEG, M2TS, WMV, VOB or more Adobe Premiere Pro supported file formats.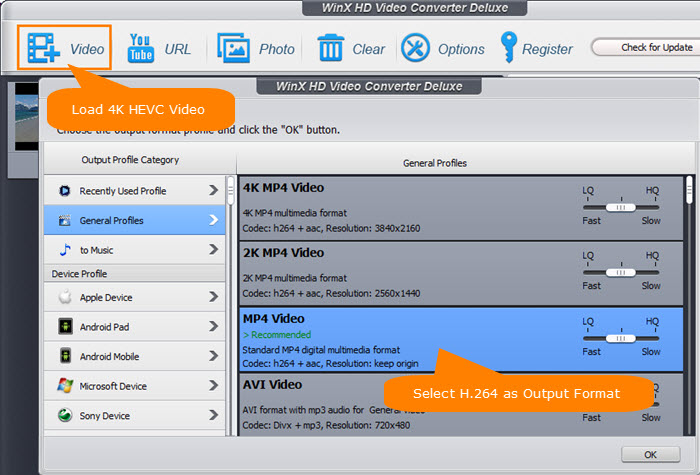 Step 3. Click Browse button to set a destination folder if necessary. Then hit RUN button to start converting HEVC video. You'll experience a blazing fast speed HEVC conversion when the Hardware Accelerator option is ticked.
Solution 2: Adjust Settings of Adobe Premiere Pro
On the other hand, if your computer is configured good enough to play 4K HEVC videos, tweaking Premiere Pro settings would be a great try to fix HEVC files not imported to Premiere Pro. For that, here are some tips you can follow:
1. Quit Premiere, delete your Media Cache folders, then relaunch Premiere and import the clip again.
2. If that does not work, try setting your Renderer to Software Only. Simply go to File menu > Project Settings > General > Video Rendering and Playback > Renderer > Mercury Playback Engine Software Only.
3. If it's still not working, go to Premiere's Preferences > Media and uncheck "Enable hardware acceleration decoding (requires restart)". Quit Premiere, delete Media Cache folders, then relaunch Premiere Pro and import clip again.
4. If all these didn't fix Premiere Pro import failure, do not hesitate to convert HEVC to H.264 using solution 1.
Further Reading: How to Play HEVC Videos with Lags and Stuttering