iOS 11: How to Update to iOS 11 and Fix iOS 11 Update Problems
iOS 11

iOS Update

Last Updated: July 7, 2017
Download and install iOS 11 to enjoy new features!
Apple unveiled its new mobile operating system - iOS 11 on June 5 at Apple 2017 WWDC event, and is expected to be officially released until the fall to users in USA, UK and other regions. iOS 11 arrives with many new and improved features, such as peer-to-peer payments through iMessage, improved Siri capable of translating English into five different languages: Chinese, French, German, Italian and Spanish, new effects for Live Photos, and screen recording. Then, some people must want to know how to update to iOS 11 on their iPhone, iPad or iPod Touch for enjoying new features.
In this post, we will walk you through the steps of updating to iOS 11 from iOS 10/9 on iPhone iPad iPod, and offer the solutions to fix possible errors during or after downloading and installing iOS 11.
iOS 11 Update Guide: How to Update to iOS 11?
Before any further, check if your device is compatible with new iOS 11. So far, Apple hasn't confirmed which Apple devices have iOS 11 compatibility yet. All we can do is to list possible iDevices supported by iOS 11. The following list will be updated if any change happens.
iOS 11 Supported Devices List

iPhone
iPhone 7 Plus
iPhone 7
iPhone 6s
iPhone 6s Plus
iPhone 6
iPhone 6 Plus
iPhone SE
iPhone 5s

iPad
iPad Pro 12.9-inch
iPad Pro 9.7-inch
The iPad Air 2
iPad Air
iPad 4th generation
The iPad Mini 4
The iPad Mini 3

iPod
The iPod Touch 6th-generation
If your device meets the requirement, you can begin making some preparation work.
1. Make a backup of your device
There're 3 common ways to perform this task:
Method 1. Back up with iCloud: stay connected to WiFi until backup finishes -> Settings -> iCloud -> Backup -> turn on iCloud Backup -> hit Back Up Now. Once completed, you'd better go to Storage to check whether the backup is ok.
Method 2. Back up via iTunes: connect your device to computer and launch iTunes -> select your device in iTunes -> select Summary from the left sidebar -> tap on Back Up Now and click Done when it is finished.
Method 3. Backup data via third-party software like WinX MediaTrans. This tool is a top-notch iOS file manager and also an ace iTunes alternative, capable of backing up iDevice photos, music, videos, eBooks, iTunes purchased music/movies/audio books, and more to computer and other storage devices. Learn how to use WinX MediaTrans >>
2. Free up space if necessary
iOS 11 update requires between 1GB and 2GB of free space on your device. So, make sure you have enough space. If your space is limited, you can delete some useless content or apps or take other measures to clean up your iPhone iPad iPod.
3. Make sure your battery is enough
Your battery is supposed to be at least 60% charged to ensure the whole iOS 11 update. To be on the safe side, keep plugging in the power supply until update is finished.
4. Connect to WiFi
WiFi connection is required if you choose to process iOS 11 update wirelessly on your iOS device. If you've some troubles about WiFi connection, check how to fix iPhone not connecting to WiFi.
Then, we come to the steps to update to iOS 11. Two methods are available for you.
Method 1. Download and install iOS 11 on your iPhone iPad iPod over the air
Step 1. Open Settings, tap on General, and then click Software Update. And then your device will check for new updates immediately, and will display the latest iOS version available for your device with detailed introduction and the amount of storage space required.
Step 2. Hit Download and Install at the bottom, if iOS 11 is ready. Download time depends on WiFi speed and the amount of traffic Apple's servers are seeing. After downloading iOS 11, you can update now by taping Install, or update later by taping Later or choosing Install Tonight or Remind Me Later. Do remember to plug in power before going to bed if you opt for installing tonight. If iOS 11 doesn't show up, it means that iOS 11 isn't available now or not supported by your device.
Note: Over the air update isn't suitable for jailbroken iPhone.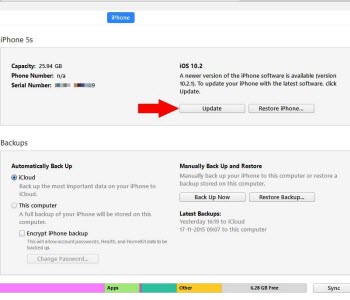 Method 2. Update to iOS 11 using iTunes
If you can't update to iOS 11 wirelessly for certain reason, such as WiFi is not working and you have a jailbroken iPhone, iTunes is the way to go.
Step 1. Connect your iPhone iPad or iPod to a computer via USB cable. And make sure the computer has installed the latest version of iTunes.
Step 2. Launch iTunes, and select your device.
Step 3. Click Summary located at the left column and then hit Check for Update. Then, choose Download and Update, and tick Agree to confirm. If you're required to enter passcode, just do it.
iOS 11 Update Guide: How to Fix Errors While/After Upgrading to iOS 11?
Here we will list top 5 common iOS 11 update errors and throw out corresponding solutions.
1. Unable to Check for Update/Unable to Verify Update
When we update to iOS 11 over the air, we may see one of the following error messages:
"Unable to Check for Update. An error occurred checking for a software update."
"Unable to Verify Update. iOS failed verification because you are no longer connected to the Internet."
Solution: Click "Try Again" or "Retry" under the same network. If it doesn't work, you should connect your device to a different network, and try again. If this error still occurs, you're suggested to remove the update file and download it again. To remove it, you should do as follows: tap on Settings -> General -> Storage & iCloud Usage -> Manage Storage -> Find the iOS update, tap it and click Delete.
Generally speaking, if you come across an error when using iTunes to update to iOS 11, you're likely to fix it by: updating iTunes to the latest version, updating your computer, plugging your device directly into computer's USB port instead of an attached keyboard or USB hub, restarting computer and iOS device, checking your computer's security software, and trying update again.
If you still can't troubleshoot your problems caused by iOS 11 update, you can ask help from Apple.
Home | About | Site Map | Privacy Policy | Agreement | News | Contact Us | Resource

Copyright © 2017 Digiarty Software, Inc. All rights reserved
iPhone®, iPod®, iPad®, iTunes®, Mac® are trademarks of Apple Inc., registered in U.S. and other countries. This website is not owned by or affiliated with Apple Inc.