#1- NO. 1 Fast iPhone to PC Transfer Software (Windows 10 Compatible)
The uprising WinX MediaTrans tops this recommendation with its impressive speed - both the transfer speed and the refresh speed, be it on Windows 10 or earlier versions. To put it into specific numbers, it only takes 10 seconds to transfer 100 pictures shot in 4K from iPhone to PC.
Alongside this, the iPhone 7/6s/ 5SE to PC transfer software incorporates music and video transfer as well, not only from iPhone 7 iOS 10 to PC, but also vice versa. For users who want to unleash their crammed-up iPhone by moving a part of the media files to Windows, WinX MediaTrans is worth a try.
In the hands-on iPhone to PC file transfer test, we figured out some nitty-gritty details embedded throughout the operation, just take a look: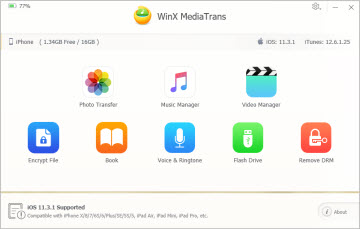 ☑ Photos & Pictures: Intelligent iPhone to PC Transfer
By calling photo transfer from iPhone to PC intelligent, Winx MediaTrans is an iPhone manger that remembers your transfer history, which means it won't transfer the same pictures a second time, thus avoiding duplication.
☑ Music & Playlist: Player-like Transfer
You can copy, paste, rename a song or even create a new playlist under WinX MediaTrans. Unlike other iPhone 7 iOS 10 to PC transfer software which only configures bare-bone transfer utility, this iPhone transfer tool delivers player-like music transfer experience.
☑ Video Transfer from iPhone 7 iOS 10 to PC
Most of the existing iPhone to PC transfer software can do nothing with MKV, AVI, AVCHD and other video format which iPhone doesn't natively recognize. But the opposite is true with this iPhone 7/7 Plus/6s/SE to PC transfer tool as it automatically converts videos into MP4(h.264) before proceeding to video transfer.