[iPad Pro 2] Best iPad Pro 2 File Manager App Free Download
iPad Pro 2

File Manager

Posted by Estrella H.| Last Updated: Mar. 13, 2017
What's the Best File Manager Software/App for iPad Pro 2?
iPad Pro 2, the most awaited next iPad, is rumored to announce at Apple's Spring Event 2017 and probably come out in April. Besides 12.9-inch and 9.7-inch models as former iPad Pros, this upcoming Apple 2017 tablet probably adds a new 10.9-inch model. Instead of home button, a fingerprint scanner will be built in the screen, while the removal of 3.5mm headphone port like iPhone 7 makes iPad Pro 2 slimmer and lighter. iPad Pro 2 is expected to deliver much better performance thanks to a powerful A10X processor and 4GB of RAM when running on iOS 10. And, it features water resistance and packs a better battery.
In fact, iPad Pro 2 is an ideal portable device to store various files (photos, songs, movies, e-books etc.). On the other hand, file manager software for iPad Pro 2 becomes quite essential to make all saved files well organized. Here, the best iPad Pro 2 file manager will be recommended for you.
Explore the Best File Manager App for iPad Pro 2

Get off photos, (DRMed) music/movies, e-books etc, from iPad
Edit music and delete photo albums, movies, e-books etc, from iPad
Support all iPad generations, iPad Pro (2), Mini, Air and more
Why Is WinX MediaTrans Selected as Best iPad Pro 2 File Manager?
Compared with mobile file manager apps which should be installed on devices, WinX MediaTrans will eat no mobile space because it is a Windows-based file manager app for iPad Pro 2. It is fully compatible with Windows 10 and lower versions as well as available for any device running on iOS 7.0 or later. Apart from its high compatibilities, it also boasts powerful file management feature and excellent performance. In the following, let's explore how great it is one by one.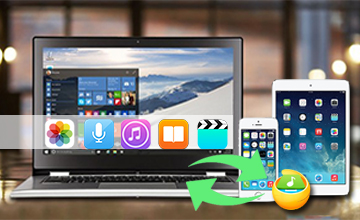 1. Two-way Transfer Solution
WinX MediaTrans primarily focuses on syncing files between iPad Pro 2 and computer. It enables you to add photos, music, videos, e-books, ringtones etc, from computer to iPad Pro 2 for flexible enjoyment as well as export media files from iPad Pro 2 for a backup. It offers a stable and fast transfer. All data on iPad Pro 2 keeps safe during transfer.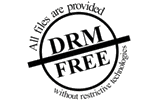 2. DRM Removal from iTunes Purchases

★
It features making purchases from iTunes, for example, music, movies and audio books DRM-free. All those purchased contents can be easily exported to computer and opened successfully.
>> See how to removal DRM from iTunes movies, music and audio books...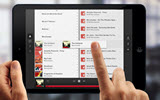 3. Easy Music Management

This iPad Pro 2 file manager software also works as a music organizer. It can help you edit title, artist, album and year of a song; create playlists to clarity songs in a genre into a group for better sorting and delete unwanted songs or playlists from iPad Pro 2. It also can convert any audio to MP3 when adding a song to iPad Pro 2 for a successful playback.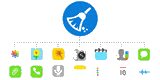 4. File Deletion
It enables you to delete unwanted or unnecessary songs (including playlists & ringtones), videos, e-books, Voice Memos etc, as well as remove photo albums synced from computer to free up more space on iPad Pro 2.
In this example, we will show how to manage music on PC. Mac user guide shares the same workflow.
Step 1. Connect iPad Pro 2 with PC
Plug in iPad Pro 2 to computer. A message pops up on your iPad Pro 2 screen asking you whether trusting this computer or not. Tap Trust.
Now, launch WinX MediaTrans which will access to connected iPad Pro 2 automatically. Later, the main interface appears. Select Music Manager to enter music management page.
Tip: It is suggested to check "Prevent iPods, iPhones and iPads from syncing automatically" option in iTunes before using WinX MediaTrans in order to prevent some data from being erased accidently.
Step 2. Manage Music on iPad Pro 2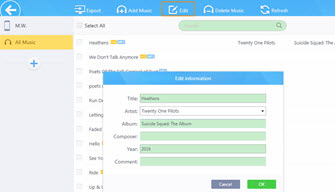 • Add – Add Music button allows you to select and transfer certain songs from PC to iPad Pro 2.
• Export – Export button is used to sync music (including DRMed iTunes music) from iPad Pro 2 to PC.
• Edit – Select one song and click Edit button. A pop-up arrives. You can modify Title, Artist, Album, Composer, Year and comment this song.
Playlist – On the left sidebar of this page, the plus symbol helps create new playlist. After creating a playlist, you can rename it, put songs into it and delete whole playlist.
• Delete – Delete Music button lets you to remove one or more or all songs from iPad Pro 2.
• Additional: It can turn any song as ringtone (within 40 seconds) for iPhone.
Step 3. Sync to Make All Done
If you have added, edited or deleted songs/playlist, don't forget to hit Sync button to make all changes work on iPad Pro 2.
Still have some trouble about how to use this WinX file manager for iPad Pro 2? Please feel free to Mail Us >>