iPhone 11/Pro/Max | How to Transfer Videos from Computer to iPhone Easy Fast?
iPhone 8/7

transfer video

Posted by Estrella H.| Last Updated: September 11, 2019

How to transfer videos from computer PC to iPhone 11/Pro (Max)/XR, iPad with or without iTunes? Here you learn 2 ways to copy videos to iPhone in all format. If you want to copy the latest movies, TV shows HD 1080p and other videos to iPhone iOS 10 quickly and swiftly, fisrt free download WinX MediaTrans, plug the USB cable to iPhone, and learn to sync in 3 steps right now!
Transfer Videos from Computer to iPhone without a Hitch?

Best Video Transfer Tool for you - WinX MediaTrans
- Losslessly transfer videos from computer to iPhone in an eyewink.
- Transfer speed up and up compared to USB-transfer only.
- Automatically convert videos to MP4 to play on iPhone beforehand.
Before any iPhone manager came into being, transferring videos from computer to iPhone is the sole way out. When iTunes 12 for Windows doesn't seem able to behave well in transferring videos to iPhone, making the process an Apple-only privilege, 3rd-party tools that can achieve video, music, photos transfer from PC to iPhone started to turn up and we'll just proceed to Part 1 with one quality product among them all!
Part: 1 - Transfer Videos from Computer to iPhone 11/Pro (Max) Without iTunes
You can copy any video from computer to iPhone XS (Max)/XR without hassle through the MediaTrans iPhone file manager. Unlike iTunes 12, with which you can't share popular video formats like MKV, FLV from computer to iPhone ( iTunes only support video formats in MP4, MOV, M4V, and audio formats in MP3 AAC ) file transferring with WinX MediaTrans is an out-of-the-box solution that works with anything you throw into it.
Take a look at this 3-step guide to sit you through iPhone video transfer from computer in MP4, MKV, FLV, MOV etc.
Step 1:Free download and run WinX MediaTrans on your computer and connect your iPhone to computer with USB cable. This software instantly recognizes your iPhone before scanning data therein.
Tips: WinX MediaTrans works when coupled with the latest version of iTunes installed on your computer, uninstalling iTunes later won't go wrong.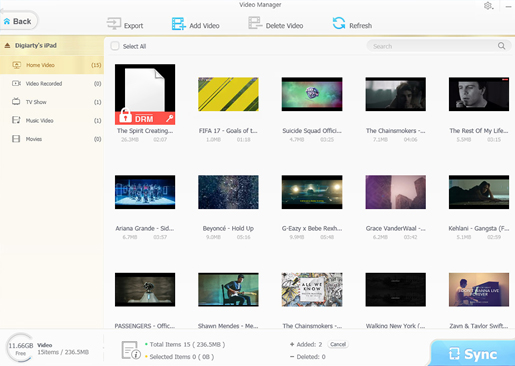 Step 2: Choose the folder to copy video to, and the "+ Add Video" option will turn clickable. If you choose a video clip now, it will be synced to MediaTrans library automatically easy and fast.
Tips: You can choose as many videos as you please to transfer at one time in a registered version.
Step 3: Hit "Sync", then "continue", within 10 seconds you can transfer a 4 minute video from computer to iPhone without blemish.
"Since I have the iPhone XS, what I noticed is, it is very slow on transferring !! between my Mac and the 5S. Like, I downloaded the new Pages app. And it happens with EVERYTHING. Transfer videos? it's just ridiculous..." ----jaleelhamid from imore forum
However, if you insist going with iTunes, here's how you can do that:
#2 - How to Transfer Videos from PC Computer to iPhone 11/XS (Max)/XR Using iTunes?
Step 1: Download, install and launch the latest version of iTunes, plug your iPhone to computer with an USB cable, which wakes up iTunes right now.
Step 2: Click your iPhone device icon on top-left corner of the iTunes Menu bar, choose "Movies" in the menu sheet on the left side.
Step 3: Open you video collections in folder, drag-and-drop the one into "Movies".
Note: If you have a video in MKV format (or other format iOS doesn't natively support), couple iTunes with a video converter software that turns the movies, videos in play on iPhone.
Either way above can help you transfer videos from computer to iPhone XS (Max)/XR/X/8/7 Plus/6s or before powered with iOS 12/11/10/9, you can get plenty hours of fun on the subway, bus, or anywhere you like.
With all the binge-worthy summer movies, TV shows buzzing around the corner, it's a wise choice to transfer videos from Windows 10 computer to iPhone if you don't want to take the computer everywhere - To that end, a downright easy-to-use and quick iPhone file manager can be the best way out. Download try how you can export videos in original quality and satisfactory speed - You won't meet a faster transfer program than WinX MediaTrans!