Q - "I upgraded my iPhone 6S to iOS 10, only to find that I can only unlock the phone with my shallow fingerprints, the notifications are bigger than before and are unorganized, emails are all linked up and messes up my read/unread emails, 3rd party keyboard become buggy, etc. I do not like iOS 10. How can I downgrade back to iOS 9?"
A: Prefer iOS 9 to iOS 10? Actually, it's too late to downgrade officially, since Apple has stopped signing iOS 9.3.5, iOS 10.0.1, 10.0.2, and 10.0.3. After all, 10.3 Beta is around the corner. But there are tweaks, as long as you have no extra demands, like downgrading iOS 10 to iOS 9.3.5 without IPSW file, or without DFU mode (possible while Apple is still signing iOS 9.3.5), or without computer.
How to downgrade iOS 10 to iOS 9.3.5 using iTunes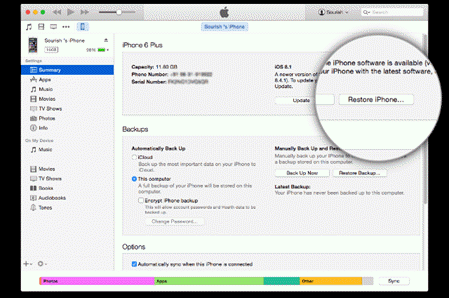 iPhone Model: iPhone 7 128GB
1. To downgrade from iOS 10 to iOS 9.3.5, first you should download iPhone iOS firmware - IPSW files for the previous iOS version. If you have made a backup before, you can find the iOS 9.3.5 file stored on your hard drive through user folder -> Library -> iTunes -> iPhone software updates. If not, you can download it online from 3rd-party sites, like the two recommended above: https://ipsw.me/ and http://www.iphonehacks.com/download-iphone-ios-firmware .
2. Since Apple has stopped signing iOS 9.3.5 and even iOS 10.0.1/10.0.2, you have to go into Recovery Mode, aka DFU Mode.
• Connect iPhone with computer via the USB cable.
• Shut down your iPhone.
• Hold the Power button for 3 seconds, followed by holding both the Home and Power buttons for 10 seconds.
• Release the Power button while keeping pressing the Home.
• Release the Home button after the Connect to iTunes screen pops.
3. iTunes will show that your iPhone is now in Recovery mode. On the iTunes -> iPhone screen -> press and hold "shift" key -> click "Restore".
4. Open your downloaded iOS 9.3.2.ipsw file, and get it installed
5. About 10-15 minutes later, the syncing will be done and your iPhone will be successfully downgraded from iOS 10 to iOS 9.3.5.
If you think the post useful, please kindly share it!