#1 Tips on iPhone iTunes Connecting Problems
When you see the Connect to iTunes screen on iPhone in many scenarios, it means your iPhone cannot connect to iTunes. Basically, you should guarantee the iTunes & Apple Mobile Device USB Driver is upgraded to the latest version and the USB cable/USB port is working. After that, restart the computer or reboot iPhone to test again. (These troubleshooting steps go for any iPhone iTunes problems below.)
A. If the iPhone still cannot be detected after the USB cable was plugged rightly, you can find another computer to have to try:
> Both failed, delete this file: /var/mobile/Media/iTunes_Control, and rerun iTunes for a try.
> Only one failed, just uninstall the following Apple software on the "failed" computer in order: iTunes, QuickTime, Apple Application Support, Apple Mobile Device Support, Apple Software Update and Bonjour. After that, install iTunes again.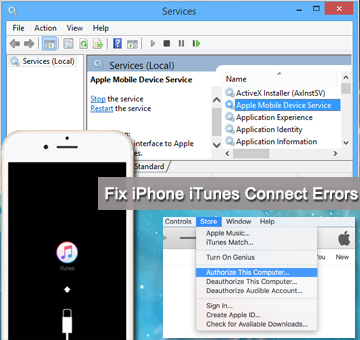 B. If your iPhone is detected by iTunes on computer, but no data can be synced at all, check and Disable the Restriction option under Settings > General.
C. In case it's the Windows (7) based computer that has no response to your iPhone, try solutions below:
• Close iTunes, disconnect iPhone, and right click my computer -> manage -> Service and Applications -> Services -> right click Apple Mobile Device Service (AMDS) -> Properties -> General -> Startup type: Automatic & Service status: Stop -> Start the service again -> OK -> restart the computer >>See AMDS restart guide with pics
• Unlock iPhone to Trust this Computer. Still alert shows up? It's necessary to reset the Lockdown folder in iTunes.
• Search and find the drivers folder containing USBAAPL.SYS file in C: and copy USBAAPL.SYS into C:\windows\inf folder and try again. (Note: if no this file here, just download it online and put it into C:\Windows\systemXX\drivers folder)...
Note: Once "The software on iPhone X needs to be restored to factory settings or updated" message shows up, click Update to reinstall iOS. And if you still have any other problems, please referring to iTunes doesn't recognize iPhone help page. One more thing: you may run into another kind of iPhone connecting problem, Windows 10 not detecting iPhone (but iTunes does). If it happens, please turn to "iPhone not showing in Windows 10".