iPhone iTunes Connect/Sync and More Problems Troubleshooting Tips
iPhone iTunes

Problems Fix

Last Updated: November 3, 2016
In this roundup, several really simple troubleshooting tips are given to fix any downloading, update, connection, (music) syncing errors of your iPhone iTunes.
Can't find the sidebar in iTunes when managing your iPhone on computer? Good news here, Apple has upgraded iTunes into version 12.4 with handy navigation sidebar brought back in May, which makes it much easier to view and manage all of the folders, playlists, music and any other content in the library. So, just update your iTunes at once.
Actually, iTunes really makes iPhone users love and hate. Because it's complicated to handle and its instability in connecting really annoys many users to sync content, especially for Windows (10) users. We here'll list some typical iPhone iTunes problems and provides corresponding solutions to fix them.
Tired of finding solution for the iPhone iTunes problems/errors?

- All-in-one iOS mobile transfer tool for iPhone7/SE/6s, Plus etc.
- Two-way sync photos videos music books betwen iPhone to PC.
- No Internet connection needed, No.1 fast speed with USB cable.
#1 iPhone iTunes Connect Problems
When you see the Connect to iTunes screen on iPhone in many scenarios, it means your iPhone cannot connect to iTunes. Basically, you should guarantee the iTunes & Apple Mobile Device USB Driver is upgraded to the latest version and the USB cable/USB port is working. After that, restart the computer or reboot iPhone to test again. (These troubleshooting steps go for any iPhone iTunes problems below.)
A. If the iPhone still cannot be detected after the USB cable was plugged rightly, you can find another computer to have to try:
> Both failed, delete this file: /var/mobile/Media/iTunes_Control, and rerun iTunes for a try.
> Only one failed, just uninstall the following Apple software on the "failed" computer in order: iTunes, QuickTime, Apple Application Support, Apple Mobile Device Support, Apple Software Update and Bonjour. After that, install iTunes again.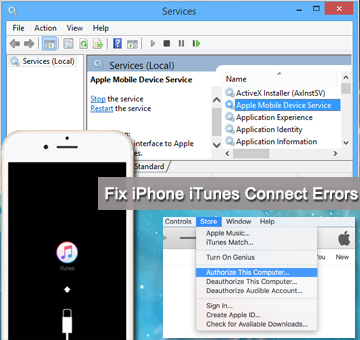 B. If your iPhone is detected by iTunes on computer, but no data can be synced at all, check and Disable the Restriction option under Settings > General.
C. In case it's the Windows (7) based computer that has no response to your iPhone, try solutions below:
• Close iTunes, disconnect iPhone, and right click my computer -> manage -> Service and Applications -> Services -> right click Apple Mobile Device Service (AMDS) -> Properties -> General -> Startup type: Automatic & Service status: Stop -> Start the service again -> OK -> restart the computer >>See AMDS restart guide with pics
• Unlock iPhone to Trust this Computer. Still alert shows up? It's necessary to reset the Lockdown folder in iTunes.
• Search and find the drivers folder containing USBAAPL.SYS file in C: and copy USBAAPL.SYS into C:\windows\inf folder and try again. (Note: if no this file here, just download it online and put it into C:\Windows\systemXX\drivers folder).
...
Note: Once "The software on iPhone X needs to be restored to factory settings or updated" message shows up, click Update to reinstall iOS. And if you still have any other problems, please referring to iTunes doesn't recognize iPhone help page.
#2 iPhone iTunes Sync/Backup Problems
iTunes' Syncing feature allows iPhone users to backup iPhone files to iCloud over Wi-Fi., as well as sync photos, videos, music between iPhone and computers. However, iTunes often comes up with unexpected errors during the syncing task after the iOS or OS update.
The most encountered one is error -54 on Windows (10) saying "The iPhone X cannot be synced. An unknown error occurred (-54)". Fix this iPhone iTunes sync problem in this way:
Open Windows Explorer -> Open up Music folder -> Right click the iTunes folder to tap Properties -> Uncheck the Read-only in General window.
Kindly to notice that it's perfectly safe to authorize the computer in iTunes, and run iTunes as administrator. To turn off "Show Apple Music" on iPhone/iTunes and even turn off Music at iCloud may get the iTunes music syncing issues through.
Solve and Avoid All iPhone iTunes Problems Using Best iTunes Alternative for File Syncing
Try this all-in-one iPhone file syncing tool - WinX MediaTrans as the troubleshooting to get iPhone photos off to computer, sync (4K) videos and music between iPhone (7/SE/6s, Plus etc.) and (Windows 10/8/7) PC and Mac. With the assistance of built-in hardware accelerated technology, the file transferring speed is faster than iTunes and similar tools.
Since there are piles of iPhone iTunes problems which usually vary from device to device, OS to OS, here we just list some top searched errors on computer. If your error is out of the range, we advice you go to Apple iTunes Support Center for searching, or ask for help online.
Home | About | Site Map | Privacy Policy | Agreement | News | Contact Us | Resource

Copyright © 2016 Digiarty Software, Inc. All rights reserved
iPhone®, iPod®, iPad®, iTunes®, Mac® are trademarks of Apple Inc., registered in U.S. and other countries. This website is not owned by or affiliated with Apple Inc.