Best App to Send Pictures from iPhone to Computer - WinX MediaTrans
App

Send Pictures

Posted by Estrella H.| Last Updated: September 13, 2018
Free Download the Best App to Send Pictures from iPhone (XS, XS Max, XR, X, 8, 7, 6s, 6, etc.) to Computer
You must have taken hundreds of pictures with your iPhone during vacation, right? And I guess most of you have received a message saying that your iPhone storage is almost full. So, how to free up your iPhone space? In addition to deleting rarely used apps and data, you can opt for transferring iPhone pictures to computer. So, which is the best app to send pictures from iPhone to computer?
Which is the best app to send photos from iPhone to computer?

- Send tons of photos from iPhone to PC in a flash.
- Selectively choose pictures from Camera Roll and 3rd-party apps.
- No data loss. No network required. All iPhone models supported.
Why Choose WinX MediaTrans as the Best App for Sending iPhone Pictures to Computer?
"There're many photo transfer apps allowing users to send pictures from iPhone to computer. Why choose WinX MediaTrans?" This question may come to your mind. And the answers are listed below.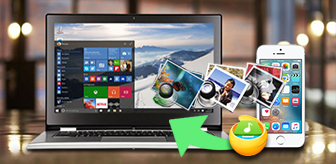 1. Selectively pick pictures. One of the reasons for we dislike iTunes is it doesn't allow us to transfer pictures selectively. Thankfully, WinX MediaTrans can make it. It gives you the freedom to choose any picture you like to send to computer.
2. Support for pictures from third-party apps. Are you annoyed by AutoPlay or other app that can't recognize and transfer photos that are downloaded from third-party apps like Facebook, or shot by other camera programs? Just turn to WinX MediaTrans. This app can not only send pictures in Camera Roll, but also those downloaded/taken by third-party apps.
3. Fast pictures loading and transferring speed. WinX MediaTrans connects with iPhone via a USB cable instead of WiFi. Sending pictures from iPhone to PC will not rely on network connection. It only costs you 8 seconds to get 100 pictures off iPhone to computer.
4. Easy to use. iTunes is too complicated and bloated to use for the majority. So do some third-party commercial photo transfer programs. Surprisingly, this newly-rising WinX MediaTrans makes things different. It comes with concise interface and keeps most important features only.
For more information about this app, kindly jump to WinX MediaTrans review.
WinX MediaTrans Is More than an App to Send Pictures from iPhone to Computer!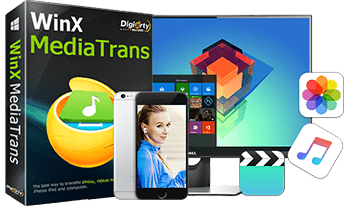 - Also available to create photo album on iPhone and send pictures from computer to iPhone;
- It is also able to transfer photos between iPad iPod and computer;
- It can transfer music, videos, eBooks, voice memos and more between iPhone iPad iPod and computer;
- It is also a music manager app, capable of making iPhone ringtone, editing music metadata, creating and deleting playlists;
- Videos that are not supported by iPhone will be converted automatically during transfer; videos in vertical mode will be rotated to horizontal automatically;
- Moreover, it is available remove DRM from iTunes movies, music and audio books, and mount your iDevice as a flash drive to store all sorts of files.