2022 Best Music APPs for iPhone 11 (Pro)/iPhone 11 Pro Max Review
Music app

iPhone x app

Posted by Estrella H.| Last Updated: Sep 11, 2019
2022 Best Music APPs for iPhone 11 (Pro)/iPhone 11 Pro Max Review
Consider getting yourself a music APP foriPhone 11 (Pro)/iPhone 11 Pro Max iOS 13 or iPhone XS (Max)/XR iOS 12 but have no idea which one is better? This review of 2022 top 7 music APPs for iPhone has get the comparison work for you. It helps you find out which one works best at one stroke, now find out!
Transfer MP3 AAC FLAC from PC to iPhone, and vice versa

Establish iPhone music library with WinX MediaTrans
- Move iPhone music to computer for more space;
- Transfer music from computer to iPhone music APP;
- Build and manage your own music library on iPhone 11/Pro (Max) etc.
Given the fact that a large number of music APPs for iPhone have been unlisted by AppStore to protect legal rights of musicians and artists, it's quite hard to find the best music APP for iPhone by typing "music APP" in iTunes store. But you won't need to worry, cause here we crank out the most in-depth review of best music APPs for iPhone so you can compare the nitty gritty details.
# 4 Spotify Music APP for iPhone
Need I say more about Spotify music APP for iPhone 11/11 Pro (Max)/XS (Max)/XR/8? Perhaps just not. Many people think of Spotify when it comes to online streaming music, and truth is that it indeed is a sleek Music APP offering high quality online streaming. ntegrated with Facebook and Twitter, listeners can not only soak in the up to 30 million tracks that Spotify holds, but also share their favorite tunes to SNS and discuss with friends.
There are already plenty of song titles in a free account of Spotify music APP for iPhone, but with a $9.99 monthly subscription, you'll be able to save the music for offline listening when there's no Wi-Fi access.
# 6 Qello Concerts Music APP for iPhone
Among all Music APPs for iPhone, Qello Concerts stands out among the rest as an expert in providing full-length concerts and musical documentaries. Type into the artist name to find out which concert you want to attend, but couldn't make it to the auditorium. Now with only one Music APP for iPhone, you can enjoy the music as if live at scene. Even without a full subscription at $7.99, Qello Concerts let its user scan a few tracks, yet the full-price service is indeed incredible fun, enabling you to watch concerts spanning through all musical genres through this iPhone music APP.
By and large, everyone of us downloads either a Spotify music APP for iPhone, or a Pandora APP, for that's where the most popular and latest songs are. But lesser-known iPhone 11/XS (Max)/XR/8 music APPs like Jukebox or Qello Concerts Music APP can take to you a totally different experience of music streaming. In fact, often times I myself can't choose one among them all so I'd just take two of them, say, Apple Music and Qello Concerts.
Not Enough Storage for More Music on iPhone 11/XS (Max)/XR/8?
- You Need to Help the iPhone 11/XS (Max)/XR/8 Slim Up
It's not easy to get everything you want in just one music APP for iPhone, more often than not, our iPhone storage are occupied fully with music APPs, movie APPs, and iOS games none dispensable. If you are running out of space on iPhone 8/7 (Plus), it's advised you move some music from iPhone to computer before installing any of the music APPs for iPhone above, just take a look at how you can do that: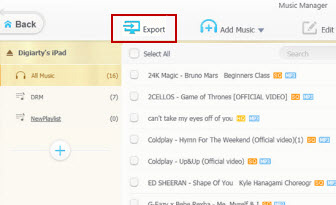 How to Move iPhone 11 (Pro) Music to Computer?
Step 1: Get this iPhone music manager - WinX MediaTrans for your computer, install and launch it. Click the "Music Manager" button on the main interface to access the music library on iPhone. Check the songs that you won't listen to recently to move from iPhone XS (Max)/XR/8.
Step 2: Click the "Export" button on the top-left corner, or when you point the cursor to a song, the "Export" option will also turn clickable, click to start syncing.
Tips: You can also refer to this guide as of how to transfer music from computer to iPhone with WinX MediaTrans.
A music buff like you may just often be bothered by the problem of iPhone running out of storage, that being said, you can either delete some music from iPhone, or make space on iPhone with WinX MediaTrans for latest music content, singles and featured content.
Already found the best music APP for iPhone from the recommendations above, then free download WinX MediaTrans to slim up your iPhone!