How to Convert MOV to MP4 using VLC Media Player
MOV is widely used in today's advanced recording devices, such as iPhone, DJI drones, Nikon, Canon, JVC, other DSLRs. However, when someone tries to use his shooting works for further editing, sharing, and playback on Premiere Pro, Windows Media Player, Instagram, etc., they simply find MOV is not compatible. Therefore, they may need to convert MOV to MP4. If you also have unfriendly MOV videos, you can try an app that almost all users will have on their computers- the VLC Media Player. Here we will show you how to use VLC to convert MOV to MP4, and how to fix the most common problems - VLC mov to mp4 no audio/video errors.
Convert 4K/HD MOV to MP4 Faster & Easier than VLC with High Quality
WinX HD Video Converter Deluxe - Convert MOV to MP4 within clicks. Smooth performance converting HD, 4K, and 8K MOV videos @60fps, 120fps, 240fps. Support codecs for HEVC, H.264, Prores,MPEG-4 AVC/H.264 (HD/SD), MPEG-2 (HD), LPCM, etc. 5x faster than VLC.
How will VLC Convert MOV to MP4 in Clicks?
If you haven't got VLC Media Player on your computer, go to https://www.videolan.org/vlc/index.html to download the version based on your computer system and install the app.
Step 1: Run VLC and click the Media button. Click Media > Convert/Save. You can also use Ctrl+R shortcut to open the convert window.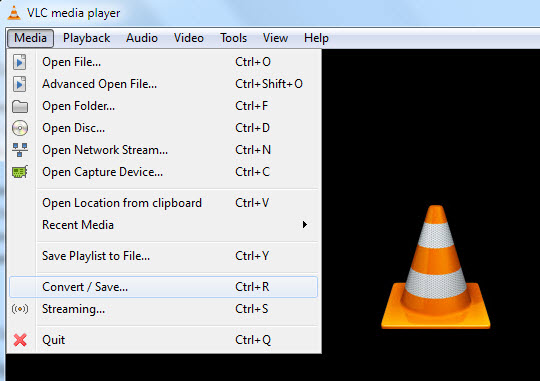 Step 2: From the Open Media window, click Fie > Add. Select the MOV video from your computer and click Open. After the MOV video is imported, click Convert/Save. Currently, you can't process multiple MOV files easily using VLC. To let VLC batch convert MOV files into MP4, it involves complicated commands, check here>>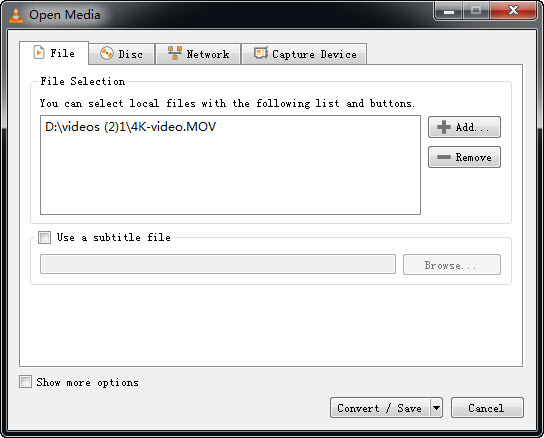 Step 3: On the Convert window, there are a few setting options you can set.
1. Deinterlace: If the input MOV video is an interlaced video like MOV 1080i, 720i, select the option to avoid out of sync errors or the like.
2. Profile: To convert MOV to MP4 using VLC, select Video-H.264+MP3 (MP4) as the output format. You can click the next three buttons and you can select the video/audio codec (incl. H.265, VP8, MPEG4, Theora, etc.), adjust the bitrate, quality, frame rate, add filters, and more.
3. Destination: Click Browse and set an output folder on your computer to save the MP4 file.

Step 4: After all the steps, click Start to let VLC player convert MOV to MP4. VLC will then start to work and you can check the progress bar.
Related reading: how to convert mov to mp4 using Handbrake>>
Errors Converting MOV to MP4 using VLC & Fixes
VLC, suggested by its full name, is a media player rather than a video converter. Therefore, it's too demanding to make sure VLC convert MOV to MP4 without error. It does work but it's very volatile. In fact, there is a good chance that VLC will offer difficulties during the conversion. If you don't want to bother, you can try a more reliable way to convert MOV to MP4. If you want to stick with VLC, check some of the most notorious errors and possible fixes below.  
1. VLC MOV to MP4 no audio
"I have VLC Media Player which can convert videos from .mov file format to .mp4 file format. However, when I convert them and play the destination MP4 file, I can see the video but there is no sound. It either says the file format is not recognized or the audio does not play."
Fix 1: If you record videos using DSLR, especially Nikon, Canon, and JVC, the output MOV clips may have Linear PCM audio. VLC supports audio in DTS, AAC, AC3/A52, Raw DV, FLAC, FLV (Flash), MXF, Nut, Standard MIDI/SMF, Creative™ Voice, and some codecs like DTS-HD, Dolby TrueHD, PCM or LPCM are not recognized by VLC. Due to the incompatibility, VLC can't process LPCM audio and that causes the VLC convert MOV to MP4 no sound error. In this case, you have to switch to another converter for help.
Fix 2: There may be some check box you missed. For example, a user on the forum said that by unchecking the "Keep Original Track" box, the output MP4 works as normal. You can also check the audio setting on the Audio Codec windows. Check if the Audio box is checked.
2. VLC convert MOV to MP4 no Video
"I was trying to convert a file from MOV to MP4 using VLC but when it finished and I look at the file there was no video, only sound." Different to the "no sound" error, in this case, the VLC mov to mp4 output ONLY has audio but no video. Why does this happen and how to fix?
Fix 1: No image problem can be caused by wrong settings. Try to adjust the following two settings:
● From the menu > select Tools > find Preferences > Video > output module there first check advanced options and then change the module to OpenGL > press Save button.
● From the menu > select Tools > find Preferences > Video > Output > switched to Windows GDI video output > press Save button.
Fix 2: MOV videos recorded by Dji drones and iPhone are encoded with HEVC codec. If the output MP4 has no video, check if your VLC is the latest version. VLC adds the support to play and transcode H.265 codec since Version 3.0.
3. Audio out of sync
"I tried to convert an MOV recording to an MP4 in order to add it to Instagram, but the new mp4 file audio is out of sync." A/V out of sync is a common problem when using VLC to convrt MKV to MP4. But when you import a iPhone recorded MOV to VLC, the problem also creeps up. This is due to the variable frame rate used by iPhone.
Fix: To get rid of VLC MOV to MP4 A/V out of sync problem, you can use Handbrake to change VFR to CFR. On Handbrake, drag & drop the MOV, select the Video tab, click on Constant Framerate, then Start. The app recommended below also works.
A Better Way than VLC to Convert 4K MOV to MP4
You can simply try Handbrake to convert MOV to MP4 if VLC won't work. But if the source MOV has some advanced specs like 4K, 60FPS, HEVC, etc, there is a better and more reliable way - WinX HD Video Converter Deluxe.
● Offers smooth performance dealing with large and high-resolution videos in 1080p, FHD, 2.7K, 4K, and even 8K.
● Keep updated with specs of the latest DJI, DSLR, iPhone, etc., e.g., HEVC/H.265, Prores, AVCHD, VP9, PCM, LPCM, @60fps, 120fps...
● Convert MOV to MP4 H.264, MP4 MPEG4, MP4 H.265, WMV, AVI, MKV, 370+ other formats as well as mobiles, tablets, web, TV, NAS, more.
● Unique Level-3 Hardware Acceleration can convert MOV to MP4 faster than others, about 5x faster than VLC.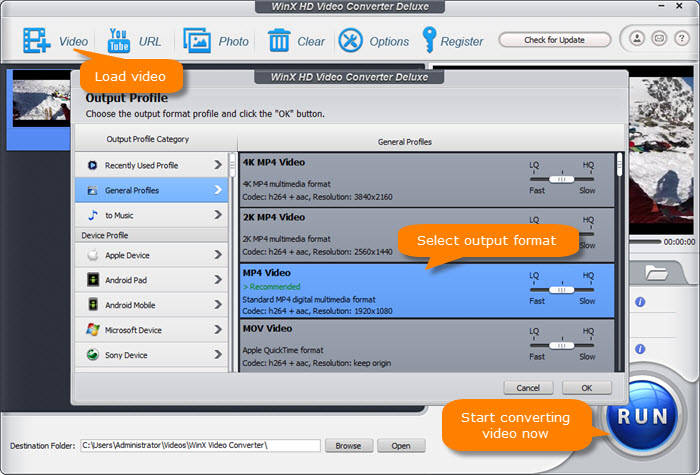 Step 1. Select MP4 output. Free download the app, install and open it. Click the +Video button and select the MOV files. You can select multiple MOV files to batch convert. Then "Output Profile" window will pop up. Scroll down the list and find MP4. You can convert MOV to MP4 in HEVC, H.264, and MPEG4.
Step 2. Set MOV converting. Leave the output settings as the default or adjust as per your needs. Click the button with a gear icon to adjust the resolution, frame rate, bit rate, video/audio codecs, etc. Click the Edit button to trim long MOV videos into shorter MP4, crop the picture, add subtitles, edit MOV videos, etc.
Step 3. Convert MOV to MP4. Click the Run button to start. But make sure you:
● Check the Hardware Encoder box to apply Intel QSV, Nvidia Cuda/Nevenc if possible. It can be 5x faster than VLC MOV to MP4 conversion.
● Check the Auto Copy box to change MOV format to MP4 format only without transcoding the inside data whenever both the source MOV and targe MP4 come in H.264 codec. This will output intact quality yet superfast speed.