MOV Codec Guide: What is MOV codec and How to Play It on Any Device?
"Hi, I had purchased a home theater with DivX & MPEG-4 support (H.264). Now I am planning to buy a camera which records HD movies in .MOV format. I believe .MOV format is the basis for .mp4 formats as mentioned on the wikipedia. Would my DVD player be able to run these movies in MOV format or I would require to convert them first. If I do not want to alter the video & audio format, what is the best way to change the containers?" --gkp_pc
That is not news that the MOV video cannot play on some occasions. You can find problems like cannot play MOV video or show playing errors on your PC. Even someone has complained, "I would avoid the MOV file if there are other options". Want to quickly solve the problems and play it on any device, here are things you might need to be known.
Part 1: What is MOV codec?
When referring to the MOV codec, we should know that the MOV is not a video codec. A video codec is a device or software that is used to compress or decompress a digital media file in the specified method, but a video container is for package data which has been compressed by using a particular codec. MOV container file format is usually known as QuickTime File Format (QTFF) which uses a proprietary compression algorithm developed by Apple Computer. MOV file format can be encoded by the mainstream video codecs includes MPEG-2, MPEG4-ASP(XVID), H.264, HEVC/h.265, Apple ProRes and so on. If your computer or device does not have the required codec, the MOV video cannot be accessed through decoding and encoded, which means it cannot be played as we know it.
Looking for the Best Solution to Play MOV Videos?
WinX HD Video Converter Deluxe - Convert MOV video file to fix incompatible problem on PC/Mac or devices.
It can easily and efficiently convert MOV videos encoded with any codecs, including but not limited to MPEG-2, MPEG4-ASP(XVID), H.264, HEVC/h.265, Apple ProRes to videos in formats MP4, H.264, AVI, MOV etc, for smooth playback on incompatible PCs/Macs, TVs and portable devices.
Part 2: Does Your Device Support MOV files?
As mentioned above, a video codec is a device or software, so to play properly MOV videos in your PC, you need to install a separate codec to support video playback and editing. Check the mentioned codecs of the devices below, but if you still cannot make sure which codec is used by your MOV video, try to download an all-inclusive codec pack such as K-Lite Codec Pack may help.
For Apple users, knowing that MOV is the QuickTime File Format seems that the macOS system will not encounter the video file playback problems. Though the container format MOV is natively supported, it does not mean that the videos always use the capable codecs supported by the macOS system. It happens to some users that MOV clips use HEVC codec cannot play on Mac, one of the methods to handle it is trying to update to macOS High Sierra or later.
For Windows users, Quicktime is no longer supported by Windows because it does not work with windows 10, if you install and play it on Windows 10 system, problems like MOV file plays only audio but no video will happen. Therefore, download and install an alternative QuickTime media player that can support the MOV file type and the codecs is necessary.
If you want to load video from Andriod phones or the cameras to your PC, take care of their output video file formats and codecs. For Android phones, the most commonly used multimedia container formats are 3GP and MP4, and codecs are h.263 and h.264. Most of Nikon and Canon cameras record video in MOV and MP4 formats, and almost of them use the same H.264 codec. The most commonly used video formats for DJI cameras are MOV and MP4, codecs are HEVC and H.264. JVC cameras usually record videos in MOV and MP4 formats, and the codecs are Apple ProRes and H.264.
Other mainstream cameras and devices will not output MOV files, but this is not absolute for products that renews very fast nowadays. If you want to know the exact answer, the best way is to visit its official website and check the video aspects.
Part 3: Top 3 MOV players for Windows and Mac
Codec Pack may help, but the media players not only provide wider choices but also is more convenient for using. The players as you know, is the software which has built-in codecs that support MOV video file format, can play the videos.
Therefore, no matter you want to play a MOV video file on Mac or Windows, a player can support play MOV files and the codecs are necessary, here we picked three of the best media players which are powerful and professional to play almost the videos include MOV file videos.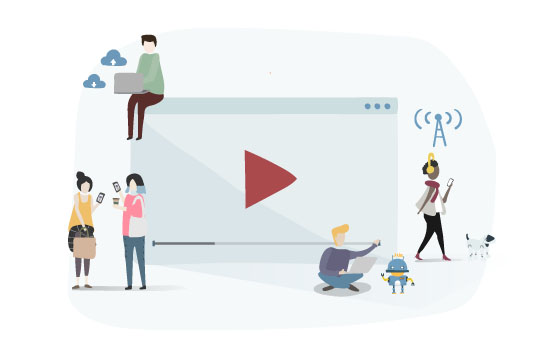 5KPlayer
5KPlayer is one of the best free media players with embedded video cutter to deliver high quality playbacks of 4K/5K and even 8K FUHD, iPhone, GoPro, etc videos with its Hardware Decoding tech. It plays almost any media file including music, videos (UHD/3D/HDR/360°), DVDs, etc on Windows 10/Mac with 5.1/7.1 DTS surround sound support.
Other Key Features: Download online videos. Wirelessly stream audio-video via AirPlay & DLNA. Play multi-region DVDs. URL streaming function can play online lives. Simple video editing features like cut videos, sync video and audio, adjust video speed, add tittle and rotate video.  
VLC
VLC is hugely popular for its extremely lightweight, simple operation interface and powerful function in playing video. Also, it is a free and open-source cross-platform multimedia player for Windows 10 and other devices like Mac, iPhone, Android phone, and so on. It plays most multimedia files as DVDs, Audio CDs, VCDs, and various streaming protocols. Although VLC with hardware decoding technology can play a large 4K video, it is not the specialist. VLC is still unstable and likely to meet various problems while playing 4K videos.
Other Key Features: Customize your VLC versions such as add skins and creat skins. It can be extended almost infinitely with downloadable plugins. Hardware Decoding Technology. Complete feature-set over the video, subtitle synchronization, video and audio filters.
CnX Media Player
CnX Media Player is a powerful 4K HDR video player for Windows 10 version 15063.0 or higher. It has an impressive user interface along with easy controls and gestures that makes the video viewing experience even more enjoyable. Also, with the 10-BIT video codecs, it can give customers an excellent experience for high quality video playback. But CnX Media Player is only capable of Windows 10, Android, iPhone and iPad now.
Other Key Features: Create & manage personal channels of your favorite videos online. Play video in 8 multiple color themes. Quick switch video decoder from hardware to software.
Part 4: How to Play MOV files on Any Device?
If you are still confused about the MOV video file format and cannot make sure what codec does it use, to play any MOV video on any device, the best solution is to convert it to the more common used MP4 video format.
Because both the MOV and MP4 container formats can use the same MPEG-4 formats, they are mostly interchangeable in the Mac system environment. Also, use the same codec to encode a video in MOV or MP4 format does not have any real effect on the video qualities. In most cases, MOV is is safer and more efficient when working on Mac, but MP4 is more flexible than MOV for it not only employed in Mac systems but also most other platforms includes Windows, Android and hardware devices like Sony PSP and various DVD players.
To convert MOV video to MP4 video, try a powerful, professional and fast video transcoder software -- WinX HD Video Converter Deluxe! It perfectly supports convert any MOV video to the more well-received MP4 format, and transcode videos of HEVC, MKV, etc. to MP4, MOV, H.264, AAC., support output and input 370+ video & audio codecs. Still, the unique GPU acceleration tech can also surprise you with 47X real-time faster speed, and able to access large videos up to 4K resolution.
How to convert MOV video to MP4 with WinX HD Video Converter Deluxe?
Step 1: Download and install WinX HD Video Converter Deluxe, open to load video by click on "+Video" button.
Step 2: On the left Output Profile Category option box, click on "General Profiles", then select the recommended output profile format "MP4 Video", click on "OK" to reply.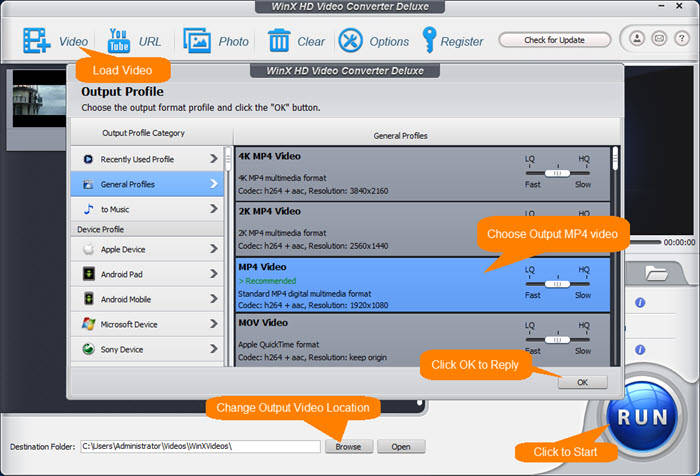 Step 3: Go to the Destination Folder and click on "Browse" to change the output video location.
Step 4: Click on "RUN" to get the converted video.
Video Tutorial: How to Convert MOV Codec Video to MP4 without Quality Loss
It is very easy and fast to convert any video with WinX HD Video Converter Deluxe by only a few clicks. Also, if you want to reduce video size, this all-in-one video software could be your ideal choice which allows you to cut, trim, crop, adjust video resolution, frame rate and so on. Free download and try it now!