Top Free MP4 Converter Programs and Online Services
MP4 is the most preferred file format and widely supported by various software and devices because it can deliver better quality with smaller size benefiting from high compression ratio. It is also one of the mostly used formats for internet streaming, e-mail delivery and more. So in many cases, we need to convert videos to MP4 format. For example, we need to convert camcorder/camera recordings to MP4 for sharing on YouTube, Facebook, Twitter, Flickr, Instagram and more.
Though MP4 is the most popular video format, people may still need to convert MP4 to other different formats in certain situations. Below are some circumstances you may need to convert MP4 to other formats, just name a few:
Situation 1: Extract audio from MP4 video as MP3. MP3 files are small and can be played by MP3 players/software and sometimes people may only need audio files.
Situation 2: Convert MP4 to flash video formats like FLV or SWF. Want to share MP4 videos/clips with families and friends online or upload/embed flash videos to blogs, emails or web pages? You'd better first convert MP4 to SWF/FLV flash video file with smaller size and excellent quality for streaming flash videos online.
Situation 3: The only disadvantage of MP4 file is from editing and movie-making point of view. MP4 files are not easy for accurate editing, especially MP4 with H.264 codec, because accurate video editing needs more I frames, while MP4 (H.264) video contains more B/P frames. If you constantly meet problems when editing MP4 video with iMovie, Windows Movie Maker, etc., you may need to convert MP4 video to MOV or WMV first.
No matter you want to convert video to MP4 or convert MP4 to other formats, you'll find the best solution here. MP4 conversion is achievable by capitalizing on online MP4 converter and desktop MP4 converter. It is hard to make decision among so many choices from Google results. Here we'll list 3 best free online MP4 converters and 3 best desktop based free MP4 converter software for your reference.
Part 1. Best Desktop Free MP4 Converters for Windows and Mac
WinX Video Converter is an all-round video converter tool, well-designed to help you convert video to MP4 and convert MP4 to any video/audio with 420+ pre-programmed profiles. Plus, it's also a good performer to compress MP4, edit MP4, download MP4 with highest possible quality and fastest speed! The detailed features are listed as following:
Bulk convert video: convert any video to/from MP4, FLV, AVI, WMV, MOV, H.264, HEVC....convert video to iPhone, iPad, Android, etc.
No limits: no file size, resolution, codec on input/output videos, load 500MB video, 1GB, 20GB 4K or 8K video for conversion.
Highest possible quality: "Auto Copy" mode enables you to 1:1 convert video MP4 as long as video codec is kept as same. Or tick "High Quality Engine" to re-encode video to MP4 from H265 to H264, VP9 to H264, etc. with 98% quality reserved!
No.1 fast speed: compute-intensive MP4 conversion task can be offloaded from CPU to GPU. Speed can be improved 47x real-time faster!
Bonus features: reduce MP4 file size, adjust MP4 resolution/frame rate/aspect ratio, edit MP4 (crop, trim, add sub...), download MP4....
Now you can get free license code, please click here to get giveaway version.
How to Convert Video from/to MP4 with Best Quality and Fastest Speed
Firstly you should free download WinX Video Converter and install it on your PC.
Step 1: Run WinX on your computer, and click "+Video" button to load the video you want to convert to MP4 or other format. Bulk conversion is available.
Step 2: After adding video file, the video's information, such as name, video size, video length, duration and output file will be shown in the file list. If you want to convert video to MP4, choose MP4 as output video format. It enables you to convert 3GP to MP4, MPEG to MP4, MKV to MP4, MOV to MP4, AVI to MP4, etc. If you want to convert MP4 to other format, just find your desired output format.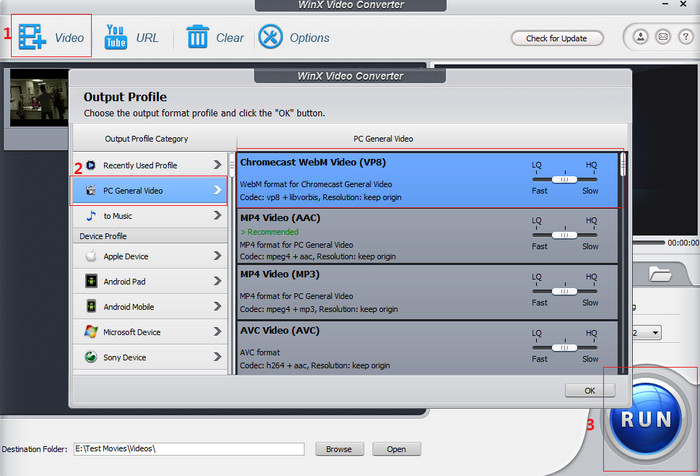 Step 3: Click "Browse" button in output setting area, choose a destination folder in the dialog box that opens, and then click OK.
Step 4: After finishing the above steps, click "RUN" button on the main interface to start converting video file. You can view the conversion progress from the progress bar at the bottom of the dialog box. It will run at GPU accelerated 47x real-time faster speed, up to 250-350FPS if your computer supports GPU hardware acceleration, as well.
Tips:
1. Move your mouse to the right lower corner of the main interface, where you can manually tick "Auto Copy" mode to realize 1:1 lossless video conversion without re-encoding, such as MKV H265 to MP4 H265, MOV H264 to MP4 H264, as long as the input and output video codecs are the same. 2. Click Settings icon

to activate the settings adjustment feature (as the image shows below). You can now freely change MP4 video resolution, frame rate 60FPS to 30FPS, aspect ratio 1:1 to 16:9 or 4:3, bit rate, audio channel, etc.
Similar to the first MP4 converter we mentioned, this one also has a wide variety of input and output formats. Generally, it can accept whatever you feed it without file size or format limits. MP4 video editing and downloading are also highlighted on its official product webpage, addressing your needs to customize your resulting files like cut, join, rotate, etc. Of course, there are a couple of omissions that kept this product out of the top spot of our top MP4 converters chart. 1:1 lossless Auto Copy mode, High Quality Engine and GPU hardware acceleration tech are absent from this utility. Thus, it leaves high quality and fast speed to be desired.
How to Free Transcode MP4 Video using Freemake
Step 1: Hit "Video" button to load your video files after Freemake downloading and installation.
Step 2: Opt for the output format or device from the pre-set profiles.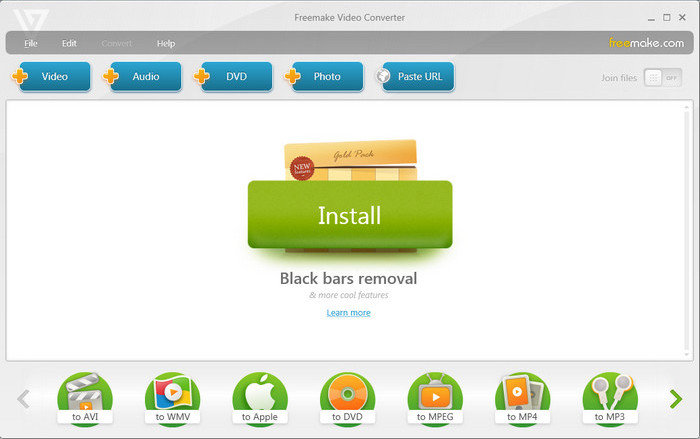 Step 3: Tap "Convert" and the conversion engine will go into action. Leave the rest to it and check the output file after a cup of coffee.
HandBrake is a popular video transcoder that supports converting MP4 video and converting videos to MP4 format. It is free, open-source, and compatible with Windows, Mac and Linux.
Convert Blu-ray, DVD, and regular videos to MP4. Available video codecs include H.264, H.265, MPEG-2, and MPEG-4.
Provide dozens of output presets and allow creating presets.
Support hardware acceleration.
Provide a set of options to get desired result.
How to Convert video to/from MP4 with HandBrake?
Step 1. Launch HandBrake. Under Source Selection, click File to open the video you want to convert. If you have multiple files to convert, you can put them in a folder, and then click Folder button in HandBrake to import them.
Step 2. Choose preset and specify container format (MP4, MKV, or WebM), video codec, audio codec, and more based on your own needs.
Step 3. Click Browse to specify save path and file name.
Step 4. Click Start Encode button to begin converting video to MP4 or to other format.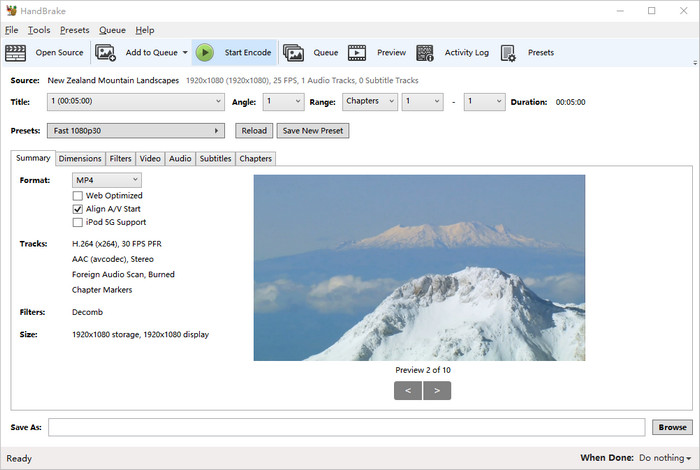 Part 2. Best Free Online MP4 Converter
This is a free online MP4 video converter service, which is also armed with bi-directional conversion feature, video to MP4 and MP4 to video. It allows users to perform up to 25 conversions per day for free.
The input video list includes 27 modern video formats, like MP4, MKV, MOV, AVI, FLV, etc., AV1, TOD, AVCHD, DAT, IFO, F4V, ASF, and G2M4 are excluded.
The quantity of output video formats is up to 7, including MP4, MKV, MOV, AVI, FLV, WMV, and WebM. So far, mobile device profiles are not accessible. It's said to sport with options to change video resolution, quality and size, but the options don't show up on the webpage.
Basically, if your video size is reasonable and you don't need any advanced features, this online MP4 transcoding tool fits the bill. Don't ask for too much from a free online tool.
How to Free Convert Video to MP4 Using Cloudconvert
Step 1: Navigate to Cloudconvert official website. Click "Select File" button to load your videos. It allows you adding source file from computer, Google Drive, Dropbox, OneDrive, or by URL. Step 2: Choose resulting video format from the 7 video formats we mentioned before. Or you can select audio formats, e.g., MP4 to WAV, MP3, AAC, FLAC, etc. 7 audio formats, if you want to extract audio from MP4 file.
Step 3: Tap "Click" red button to call the conversion begin. The conversion speed mainly depends upon your network connection speed.
Convertio is another free online video converter that supports converting video to or from MP4. It supports 125 MP4 conversions in total such as MKV to MP4, MOV to MP4, and MP4 to AVI. The downside of free Convertio is that it doesn't allow source video larger than 100 MB.
Support adding videos from local drive and online storage.
In addition to changing file format, it also provides options to cut, resize, flip, rotate video and set quality, codec, and frame rate.
Use SSL certificate to protect site and the file you upload.
How to Convert Video to/from MP4 with Convertio?
Step 1: Click Choose Files button to load the video you need to convert.
Step 2: Choose output format. By default, MP4 is chosen as the output format. If you want to convert video to other format, just click the drop-down menu button to choose a desired format.
Step 3: Click the Convert button to start converting process.
Step 4: Download the resulting file.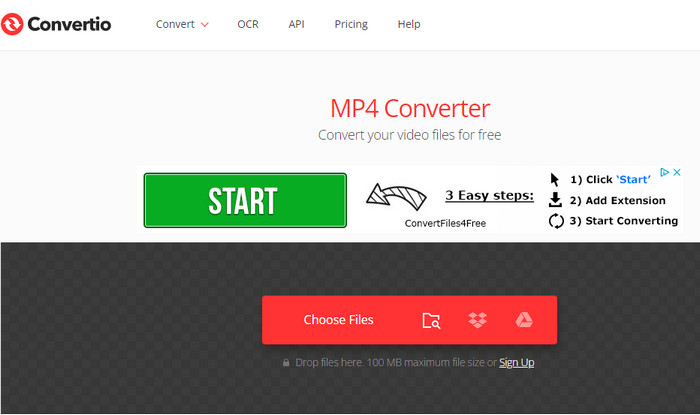 Zamzar is a popular online file conversion tool. It allows users to convert videos for free. But just like other free online video converters, it has limits. It limits the maximum file size of source video to 50MB and allows 2 file conversions only per 24-hour-period.
Support converting 40 file formats to MP4, including AVI, MKV, MOV, TS, and more.
Support converting MP4 video to 18 file formats, including AVI, FLV, MOV, WebM, and more.
Provide some device presets but they may be outdated for you.
How to Convert Video to/from MP4 with Zamzar?
Step 1: Click Add Files button to import the video you want to transcode.
Step 2: Click Convert To and choose an output format.
Step 3: Hit the Convert Now button to begin uploading and converting video.
Step 4: Click the Download button to download your converted file.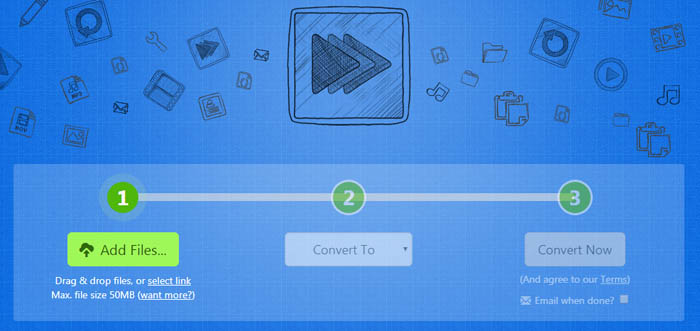 Well, above are our picks for the best free MP4 converters. In case you've used other better software or are recommended with other fabulous options, you're warmly welcomed to share with us via Email or Facebook/twitter official account and we'll constantly update them to this post.
Suggested reading: more online MP4 video converters >>
Part 3. Online MP4 Converter or Desktop Software, Which to Choose?
Both web-based video converter and desktop-based video converter have their own merits and demerits. After figuring out strengths and shortcomings of each approach, you'll have the answer.
Online MP4 Converter
Pros:
No special requirements for computer OS.
No need to install software, thus saving disk space.
Cons:
Most online tools allow one-by-one conversion only.
Network connection is necessary to ensure normal running of file uploading, converting and output file downloading.
Few online tools offer edit options.
The majority sets restrictions on maximum upload file size, like 50MB and 100MB.
Output options are always limited to several formats. Few tools provide device presets.
Desktop MP4 Converter
Pros:
Support batch conversion.
MP4 conversion works well even without network.
Bundled with various edit options, such as trim, crop and merge.
No file size limitations. Unlimited daily conversions.
Professional tools usually feature hundreds of output profiles.
Cons:
Compatible with certain operating systems only.
Software installation is essential before converting files to/from MP4.
To sum up, desktop MP4 video converter is superior to online tools in many aspects. It is time-saving, in that it offers batch conversion and isn't bound by network speed. Some desktop-based programs like Free Video Converter even employ hardware acceleration tech to boost transcoding speed greatly.