[Dos and Don'ts]Guide on Choosing Best 4K Video Player for Windows 10
"Hi, I just bought 4K TV, and im using it to watch movies thru PC. And watching movies it seem like PC not getting job done, video playback is not smooth. But when I try to play games at 1080p there's no problems, games are smooth. What could be a problem? I need more powerful PC?" ----Intars
We all know that process massive data of 4K video has high requirements for computer system specs. If your device cannot meet the requirements, there come problems such as video cannot be played, video plays but without audio, or choppy and freeze, etc. As a matter of fact, you need to find a 4K-capable media player software to help. Here we picked top 10 best 4K video player for Windows 10, one of the typically used PC operating environments, and all of them is free to download and use.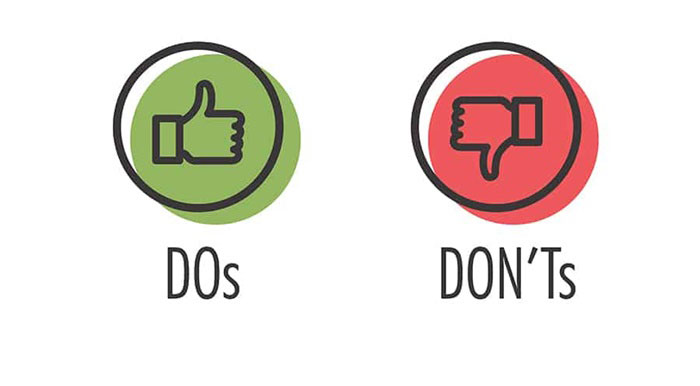 Part 1: The Do's And Don'ts while Choosing a 4K Video Player for Windows 10
1. Check the player is capable for Windows 10.
Some 4K video player functions are restricted in the operating system which is incapable. Go to the official page of the player or its help center and check the operating system and even if there are restrictions.
2. Make sure the player has Hardware Acceleration Tech.
4K videos can bring us a better watching experience of course, but higher resolution usually resulted in larger file sizes. To play large 4K video, if the computer uses software decoding only, the CPU usage can reach as high as over 90%, this is one of the reasons that we meet problems like crash, stutter, lag (become slower) or freeze when playing 4K video. But pushing part of the decoding task to the GPU, CPU has burden eased and the processing speed will be faster. If you just want to play 1080p video or less, ordinary players can certainly handle it, but once you turn to UHD videos, it is necessary to find a professional player.  
3. Make sure the player supports the codecs of 4K videos.
To reach 4K (2160p) resolution, videos can only be encoded into three codecs now – H.265/MPEG-H HEVC, H.264/MEPG-4, and VP9 (the main codec of Youtube 4K videos). Therefore, the most important point when choosing to download a 4K video player is to ensure that it can support those video codecs. Players do not support the codecs of 4K videos is another big reason for video playback errors.
4. Check the player has the basic video customize settings and simple editing fuctions.
Customize the video while playing like change aspect ratio, track, speed and even able to load subtitles are very basic yet, without those functions you will find that this player is lower than the average level that other players should have. It is the same as the simple edit features such as cut, trim and put together a video. It may only take a few minutes, but when it turns to 4K video will most likely need some professional editing tools which are able to works with large videos.
5. Don't install a player with too much unnecessary features.
As to the features of the video player, neither the less the better nor the more the better, I would like to suggest you find a proper one. A media player with multiple features such as cut, trim, rotate, change aspect ratio, etc. can bring flawless watching experience or meet other needs. But some of the players with powerful features are large in installation size or require some plugins to expand features. If you do not always need to burn DVD or edit video clips, it is better to clean up more storage space for 4K video than download an integrated media player and to be an extra burden for your computer.
6. Don't download video player from suspicious website.
Some websites filled with too many floating window advertisements are likely to cause you to misclick and jump to other pages or even download files you don't want. Before downloading, you can search for some reviews of the player, of course, the review is out of personal preference or business cooperation, you don't have to believe all of them, but try to judge whether this product is credible.
7. Don't buy a 4K video player otherwise you have progressive needs on player.
To be honest, there are so many free 4K video players on the market, and you can always find a satisfactory one by trying a few more. Paid products will indeed have a variety of features and be rich functionality, but, as mentioned above, do you really need these storage-consuming features? Or are they professional enough compared to other feature centralized software?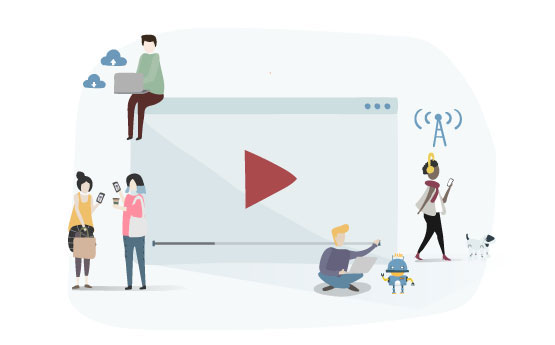 Part 2: Top 8 Best 4K Video Player for Windows 10
5KPlayer
5KPlayer is one of the best free media players with embedded video cutter to deliver high quality playbacks of 4K/5K and even 8K FUHD, iPhone, GoPro, etc videos with its Hardware Decoding tech. It plays almost any media file including music, videos (UHD/3D/HDR/360°), DVDs, etc on Windows 10/Mac with 5.1/7.1 DTS surround sound support.
Other Key Features: Download online videos. Wirelessly stream audio-video via AirPlay & DLNA. Play multi-region DVDs. URL streaming function can play online lives. Simple video editing features like cut videos, sync video and audio, adjust video speed, add tittle and rotate video.
VLC
VLC is hugely popular for its extremely lightweight, simple operation interface and powerful function in playing video. Also, it is a free and open-source cross-platform multimedia player for Windows 10 and other devices like Mac, iPhone, Android phone, and so on. It plays most multimedia files as DVDs, Audio CDs, VCDs, and various streaming protocols. Although VLC with hardware decoding technology can play a large 4K video, it is not the specialist. VLC is still unstable and likely to meet various problems while playing 4K videos.
Other Key Features: Customize your VLC versions such as add skins and creat skins. It can be extended almost infinitely with downloadable plugins. Hardware Decoding Technology. Complete feature-set over the video, subtitle synchronization, video and audio filters.
CnX Media Player
CnX Media Player is a powerful 4K HDR video player for Windows 10 version 15063.0 or higher. It has an impressive user interface along with easy controls and gestures that makes the video viewing experience even more enjoyable. Also, with the 10-BIT video codecs, it can give customers an excellent experience for high quality video playback.
Other Key Features: Create & manage personal channels of your favorite videos online. Play video in 8 multiple color themes. Quick switch video decoder from hardware to software.
DivX Player
DivX Player is a software media player that delivers high quality playback of videos up to 4K. It can play most of the popular video formats, and Stream videos to DLNA-compatible devices. Besides, performing as a video player, it can convert popular video formats into DivX, MKV, HEVC and MP4 files, including custom encoding settings for resolution, bitrate and so on. But the speed of installation is slow and if you want more features or free from ads, you need to pay for the pro version.
Other Key Features: DivX Accelerated. Compatible devices like smart TVs, gaming consoles, tablets, Chromecast and so on. Create and play videos with multiple audio and subtitle tracks in several formats.
PotPlayer
PotPlayer is a feature-focused multimedia player which build in the enhanced H/W-Acceleration technology provides the maximum performance with the minimum resource using DXVA, CUDA, QuickSync while playing 4K videos. The interface looks simple and clear, but once you need to find the features you want, that is another story.
Other Key Features: 3D and 360-degree video support. Choose which one when you have 2 sound cards. Supports various devices such as DVD, TV, HDTV.
KMPlayer
K-Multimedia Player also recommended by many people as a powerful high quality video playback app for videos from HD to 4K, UHD and Full HD. It not only supports 3D and 360-degree playback but also supports almost VR video playback. But recently the official site with KMPlayer looks confused, the page displays Korean and loses text order and images which seems very untrustworthy.
Other Key Features: Supports various media file formats. Supports incoming streams delivered via HTTP. Clean and simple UI for easy operation. Hardware acceleration setting.
RealPlayer (Basic)
RealPlayer is a free multifunctional media player not only plays video and music but also contains a number of advanced features and performs as a video downloader, converter and CDs Burner. But if you want some features like high quality playback, recording, and burn DVDs, you need to pay $49.99 for the RealPlayer Plus version.
Other Key Features: Some simple video editing functions like trim video and music. Display photos. Bookmark videos from websites. Free up your desktop and multitask while listening to music.
mpv
mpv is a free (as in freedom), open-source, and cross-platform media player. If you don't want a multi-featured media player and believe in the less the better, mpv is the wonderful choice with a clear interface, simple function but powerful enough to play 4K video with its GPU video decoding technology. However, it does not support playing DVDs and Blu-ray discs.  
Other Key Features: On screen controller. Video scaling with popular high quality algorithms, color management, frame timing, interpolation, HDR, and so on.
Part 3: How to Change Default Video Player in Windows 10?
It is pretty annoying to change the unwanted video player every time when you want to play a video. The best way to solve the problem once is to change the Settings. If your computer system is Windows 10, following the steps to change the default video player setting.
Step 1: Click on the Windows icon on the lower left conner of your computer desktop, click on "settings" or type "settings" in cortana search box to open the app.
Step 2: In Settings App, select "System" to display System Settings screen.
Step 3: Open system option box and select "Default apps".
Step 4: Then go to find "Video player", and click on its option box to choose an app (choose a wanted video player).
Part 4: How to Play 4K Video on Any Video Player?
To play 4K video on any video player, if you do not want to spend time on searching and installing another unfamiliar video player to fix 4K video playback issues, the best solution is to convert 4K videos to the codecs supported by the player you are using now. Or if the media player without any Hardware Acceleration Tech cannot play large 4K video on the old computer, downscale 4K video to 1080p to make it compatible with the computer system.  
No matter you choose to convert or downscale 4K video, WinX HD Video Converter Deluxe with Level-3 Hardware Acceleration tech is the best video processing software which can perfectly support convert any video to 420+ popular video formats and enables you upscale 2K/1080P footage to 4K and downscale 4k UHD to lower resolution at fast speed.
How to Convert and Downscale 4K video?
Launch VideoProc, the GoPro video editor software that is also capable of Hero (5/6/7) video trimming and cropping, click Video icon on the main interface, and tap +Video to add a shaky GoPro footage from your hard drive. It allows you to add more than one video for post stabilization at a time.
Step 1: Download and install WinX HD Video Converter Deluxe, then launch to load your video by click on " +video" button.
Step 2: Select output format profile, if you want to keep the output video in 4K resolution, choose General Profile->4K MP4 Video, then click on "OK". Then click on the Settings icon button to the video options box, and choose Resolution 1920x1080 or others as you want, then click on "OK" to apply.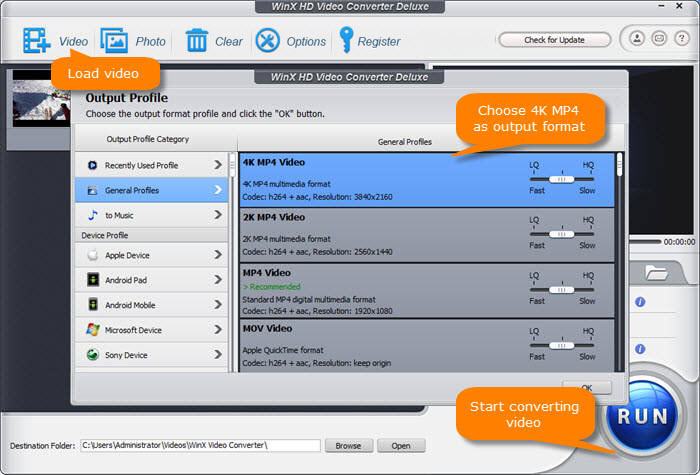 Step 3: If you want to output high quality video, select and enable Hardware Accelerator and Use High Quality Engine. Also, if your source is an interleaving video, select and enable the De-interlace option can make your video more clear. Then click on " RUN" to output video.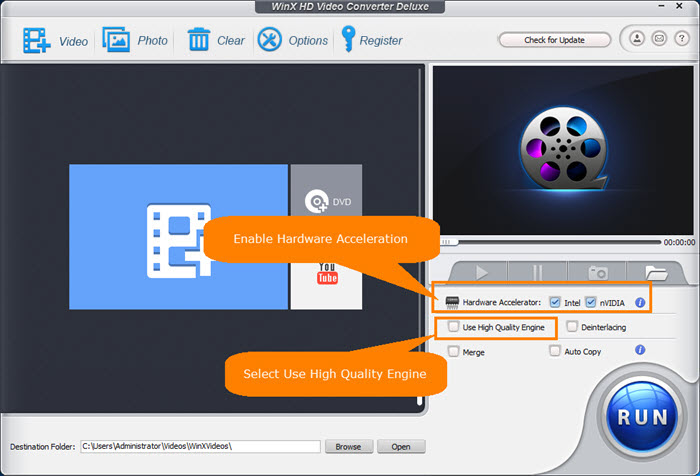 No need to worry about the downscale video will lose too many video quality and image details, WinX HD Video Converter Deluxe with embedded High Quality Engine, "Yadif Double Frames" De-interlacing Engine and Auto Copy tech can optimize image quality dynamically.
What's more, if you want to reduce video size, except downscale, you can adjusting parameters, cut and trim video clips. Now, free download and try WinX HD Video Converter Deluxe, the all-inclusive video software which brings you seamless experience of the overall workflow.