How to Transfer iTunes Backup to New iPhone 8/X?
Learn how to restore iPhone 8/X from iTunes backup successfully.
Apple just updated its phone products lineup with three new comers, namely iPhone 8, iPhone 8 Plus, and iPhone X in 2017 September event. Appearing in Apple's 10th anniversary, these new iPhones are undoubtedly powerful than ever, especially all-screen iPhone X. The futuristic iPhone X features 5.8" OLED Multi-Touch display, faster A11 processor, facial recognition, wireless charging and so on. A large portion of iPhone users have decided to buy an iPhone 8 or iPhone X to replace their old iPhones, whatever the prices of iPhone 8 and iPhone X are.
Since switching phones always involves data transfer, this post will show you how to move iTunes backup to new iPhone 8/X, thus enabling you to continue to use old phone's contacts, calendars, and other data and settings without entering all information into iPhone 8/X manually. Besides, it will lead you to transfer selective or all media contents (i.e., photos, music, videos, e-books) from old iPhone to new iPhone 8/X.
How to Transfer iTunes Backup to iPhone 8/X - Step 1: Backup Old iPhone with iTunes
If you have already made an iTunes backup of your previous iPhone for later transferring to new iPhone 8/X, simply ignore this step and move to step 2 right now. If you didn't, just follow the steps below.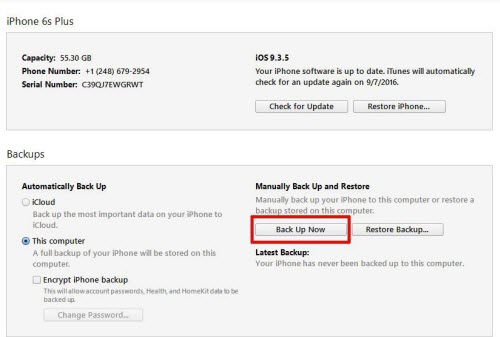 1. Connect your old iPhone to computer via a USB cable.
2. Launch iTunes (the latest version of iTunes is suggested.)
3. Click on the device button at the top left corner of iTunes to select your device. (You may need to fix iPhone not connecting to iTunes.)
4. Click on Summary, navigate to Backups section, and then choose Back Up Now.
!!! Note: You need to check Encrypt iPhone backup and set a password which must be kept in mind for further restore, if you want to save Health and Activity data in your iPhone.
5. Wait for the iTunes backup process. If iTunes couldn't backup your iPhone, click here.
Once done, go to iTunes Preferences, click on Devices tab, and then check your backup which will display the name of your device, backup date and time, and a lock icon (if you encrypted it).
Tip: This is also the tutorial on how to backup iPhone 8/X with iTunes.
How to Transfer iTunes Backup to New iPhone 8/X - Step 2: Restore Backup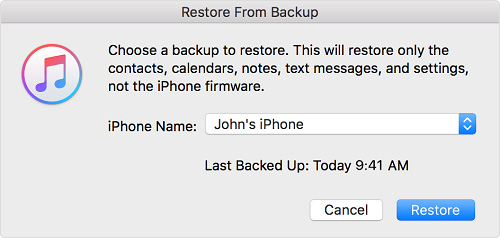 1. Turn on your new iPhone 8/X and you should see Hello screen. If you already set up your iPhone 8/X, you should erase it (Settings > General > Reset > Erase All Content and Settings) before you use these steps.
2. Press the Home button when you see Hello screen. Then, follow the instructions until you see Apps & Data screen. Here, you should choose Restore from iTunes Backup and tap Next.
3. Plug your iPhone 8/X into computer, open iTunes, and then select your device.
4. Go to Summary, Backup section, and click Restore Backup... button. Now, you should choose a backup to restore to iPhone 8/X. For encrypted iTunes backup, a correct password is required.
5. When restore process finishes, complete the rest of the setup steps on your iPhone 8/X.
Can't Restore from iTunes Backup to iPhone 8/X? Just Fix It.
In the previous article about restore iPhone iPad iPod from iTunes, we have already listed 5 common errors and also corresponding fixes, including error 9, error 3194, software is too old, forget passcode for encrypted backup and corrupt or incompatible backup. Here, we'll continue to explain how to fix another 3 common issues happening in the process of transferring iTunes backup to iPhone 8/X.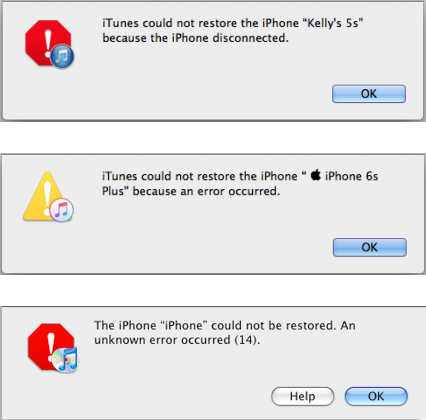 1. iTunes can't restore iPhone 8/X because iPhone disconnected.
The possible solutions to fix this error include:
1) Reboot your computer.
2) Restart your iPhone 8/X. If it isn't freshly setup, you can also reset network settings: Settings > General > Reset > Reset Network Settings.
3) Connect iPhone 8/X to computer's USB port rather than USB hub.
2. iTunes can't restore iPhone 8/X because an error occurred.
When you see this error message, try fixes below.
1) Make sure your iPhone 8/X is powered by the latest version of iOS.
2) Go to App Store of iPhone 8/X, tap Updates, and make sure all apps are updated.
3. iTunes can't restore iPhone 8/X because an unknown error occurred (14).
iTunes error 14 could be caused by a bad USB cable, outdated iTunes, not enough capacity in iPhone, and unstable network connectivity. Therefore, check these things one by one to see if it works. For example, try another original Apple USB cable and a different USB port, and download the latest version of iTunes and try to restore again. Other operations you can try include: reboot both iPhone 8/X and computer, make sure the date and time in your iPhone 8/X is correct, and disable security software.

Note
In this way, you just restore contacts, calendars, notes, text messages and settings from iTunes backup to new iPhone 8/X. If you need to transfer your media files to iPhone 8/X, you need to sync them from iTunes or make use of WinX MediaTrans - one of the best iTunes alternatives in iOS file management. Compared with iTunes, WinX MediaTrans has many advantages. It works much easier, faster, stable and flexible.
To transfer media to new iPhone 8/X from old iPhone, you should
1)

Download and install WinX MediaTrans on your computer first. Windows 10 and lower are supported.
2) Connect iPhone to computer via USB cable, and then open WinX MediaTrans. If your iPhone is detected, you'll see your iPhone name, storage, iOS and other information in the main user interface.
3) Choose a proper option. For example, to transfer photos to iPhone 8/X, you click Photo Transfer. Likewise, to copy music to iPhone 8/X, select Music Manager. Here, let's take transfer music to iphone 8/X as an example and assume that we have already backed up old iPhone via WinX MediaTrans.
4) Before any further, make sure that you check "Prevent iPods, iPhones, iPads from syncing automatically" in iTunes to avoid data loss caused by iTunes auto sync.
5) At the Music Manager panel, click Add Music to browse and open the music files you copied from previous iPhone.
6) Hit Sync button at the bottom to begin transferring to new iPhone 8/X now.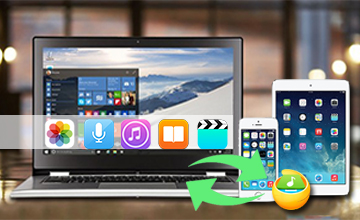 Besides transferring selective and all photos, music, movies, e-books and more between your iPhone iPad iPod and computer, it can also remove DRM from iTunes purchases for flexible playback on any device, create albums on iPhone iPad, create playlists, edit music meta data, auto convert and rotate videos for perfect playback on iPhone, make ringtones, mount iPhone as a flash drive, etc.