iPhone 7 vs Samsung Galaxy Note 6: What're the Strengths of Each One?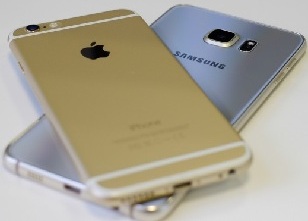 Apple iPhone 7 and Samsung Galaxy Note 6: Which One Is Better?
Both Apple and Samsung are scheduled to release new phones during the latter part of 2016. Apple is rumored to unbox iPhone 7 and iPhone 7 Plus at its September event, while rumors have it that Samsung will bring Galaxy Note 6 to market earlier than iPhone 7, maybe in July or August. In addition, more and more details and rumors of iPhone 7 and Note 6 are leaked out. At the same time, some people are wondering which one is better.
To figure out which is one better, there's no need to study the specifications of iPhone 7 and Note 6 very hard by yourself, as we have done iPhone 7 vs Note 6 compare and have sorted out the strengths and weaknesses of each one here. Plus, similarities are included.
Note: The following compare and reviews are made according to current rumors online, but we will keep you update as soon as possible if there's new information.
Upcate: Samsung will not release Note 6. Instead, they released Galaxy Note 7 on August 2nd.
Transfer Data from Old iPhone to iPhone 7/Galaxy Note 7
With WinX MediaTrans, you can export photos, music and videos from old iPhone to computer, and then later transfer the music/videos from computer back to iPhone 7. This tool does help a lot when you need to free up iPhone space, backup iPhone data, transfer files from old iPhone to a new one, etc.
iPhone 7 vs Note 6: In Which Aspects Does iPhone 7 Excel Galaxy Note 6?
As a new iPhone without an "s" in the name, iPhone 7 must be enhanced in many aspects. According to rumors online, we find that iPhone 7 will get big improvements and is better than Samsung Galaxy Note 6 in the following aspects: design, display protection, camera, etc. Read the following words to get details.
1. Design and display protection
Apple is always proud of its iPhone design, but this tech giant doesn't get enough of it and keeps improving it. Rumor has it that new iPhone 7 may employ Sapphire glass instead of Corning's Gorilla glass which is being used in current iPhone and expected to be used on Samsung' Galaxy Note 6. Sapphire glass is extremely tough and isn't easily breakable. So, iPhone 7 seems to own a better display protection than Note 6.
Meanwhile, Apple likely ditches the 3.5 mm headphone jack and takes the wireless type of headphone as replacement to make the iPhone 7 slimmer than ever. It is possible to have a slimmer body than Note 6.
2. Camera
iPhone 7 is speculated to apply dual-lens camera system to enable users to take advantage of different focal lengths for greater zooms. (Some rumors claim that the dual-lens feature may be open for iPhone 7 Plus and iPhone 7 Pro only.) Better still, iPhone 7 camera will be flat.
Not to be outdone, Samsung Galaxy Note 6 may be armed with a DualPixel 12 MP sensor on the rear and a 5MP sensor on the front. Moreover, both sensors will have an aperture of f/1.7, although still can't catch up with that of than iPhone -f/2.2.
Related iPhone vs Samsung Galaxy Articles: iPhone 7 vs Samsung Galaxy S7 || Samsung Galaxy S6 vs Apple iPhone 6 || Apple iPhone 6 vs Samsung Galaxy S5 || Apple iPhone 6 Plus vs Samsung Galaxy Note Edge
Galaxy Note 6 vs. iPhone 7: 3 Ways Samsung Note 6 Will Beat Apple iPhone 7
As the chief rival of Apple, Samsung undoubtedly has its merits. Its upcoming Galaxy Note 6 is expected to ship with commendable features some of which can even defeat the much-awaited iPhone 7.
1. Screen size
For people tending to large screen mobile phone, Samsung Galaxy Note 6 could be a good option. Rumor has it that Note 6 will ship with 5.77 inches, much larger than iPhone 7 (4.7") and even iPhone 7 Plus (5.5").
2. Memory
iPhone 7 is likely upgraded to 3GB RAM, while Galaxy Note 6 will feature 6GB RAM if the rumor is to be believed. Apple fans are happy for the rumor that iPhone 7 will touchdown with up to 256GB of storage. However, Samsung followers don't envy it, because Note 6 will apply the same memory space and with a huge plus. Inheriting Galaxy S7, Note 6 is most certainly to support a microSD slot which is compatible with up to 200GB of external storage.
3. SIM
Another feature that Galaxy Note 6 owns while iPhone 7 misses is Dual SIM. This is a very useful feature for some people.
iPhone 7 vs Galaxy Note 6: What're the Similarities?
Apart from some differences listed above, there are a couple of similarities.
1. Samsung has applied wireless charging to previous devices like S6 Edge and S7 and received praise from customers, thus will continue to input this facility to Note 6. Apple certainly can't afford to lag behind its rival and decides to allow iPhone 7 charging wirelessly.
2. Both iPhone 7 and Note 6 arrive with water and dust proof. According to the rumors, iPhone will be waterproofed to iP67 standard.
3. Although in terms of display, there're many differences between iPhone 7 and Note 6, for example, iPhone 7 will start using OLED display while Note 6 unpacks with Super AMOLED display, both are rumored to come with a 4K display. Additionally, both are believed to own 1440 x 2560 pixels resolution.
4. Both will come with non-removable Li-Po battery.
5. Both will land with primary camera with 12MP, and secondary camera with 5MP.
6. Samsung Galaxy S7 lacks USB Type-C but Note 6 is likely to get it. Moreover, some rumors said that this feature will land on iPhone 7 as well. Check USB Type-C vs. USB 3.1 vs. Thunderbolt.
For more info about iPhone 7 and Note 6 like specs, price and release date, you can read
http://www.gsmarena.com/apple_iphone_7-8064.php
http://www.gsmarena.com/samsung_galaxy_note6-8082.php
Apple iPhone 7 vs Samsung Galaxy Note 6: Conclusion
As we can see, both smartphones have been improved a lot. iPhone 7 employs Sapphire glass, dual-lens camera system, wireless charge, etc, and Note 6 is equipped with a DualPixel 12 MP sensor on the rear and a 5MP sensor on the front with both sensors having an aperture of f/1.7. They have differences and similarities. They have advantages and also disadvantages. It's hard to tell which of the two future phones will be better, but easy to choose which one suits you better once you list your needs.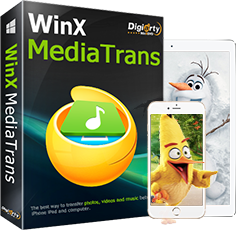 Best iPhone (7/8/X) File Transfer Software - WinX MediaTrans
• Transfer photos, videos, music from iPhone (7/8/X) to PC/Mac, and conversely send videos and songs from computer to iPhone (7/8/X) at an extremely fast speed.
• Act as a music manager to edit metadata of a song (title, artist, album, year), create/delete playlists, remove song(s) from iPhone.
• Auto convert incompatible videos to iPhone playable format (MP4) and rotate video direction from vertical to horizontal for full-screen playback during transfer.
• Turn iPhone (7/8/X) as a flash drive to save any file types, such as Word, Excel, PDF, PPT, TXT, image, app setup file and so on.
• Avaiable for any iOS (10/11) devices, including all models of iPhone, iPad and iPod.