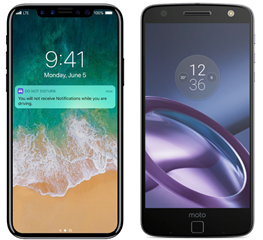 iPhone 8 vs. Moto Z: Design
All glass body vs. thin metal-framed body
iPhone 8 features a glass-bodied design with sturdier materials making the phone more firmer. A stell substructure and a color-matched, aerospace-grade aluminum band can reinforce the body. 3 colors, space gray, sliver and gold are available.
The highlight of Moto Z's design is its thin body (only 5.2mm thick), which also leads it to be an ultra-light gadget. The main body is warped with aluminum and stainless steel strengthening the body. It removes headphone jack as Apple did on iPhone 7 and next iPhone 8. Differences between iPhone 8 and Moto Z come to adapter, a lightening adapter for iPhone 8 while USB-C port adapter for Moto Z.
iPhone 8 vs. Moto Z: Display
4.7/5.5-inch Retina HD display vs. 5.5-inch AMOLED display
Apple uses 4.7-inch and 5.5-inch Retina HD display for 8 and 8 Plus. With Ture Tone which can adjust white balance depening on enviroment around you, iPhone 8 can deliver you a better viewing experience. The wide color gamut enhance brilliant and vibrant for colors on the screen while dual-domain pixels enables you to get a screen view from almost all angles. >> Further Reading: Does iPhone 8 Play HEVC Ultra HD (4K/8K) Video?
Moto Z features a 5.5-inch AMOLED display with a resolution of 2560 x 1440 pixels which brings a splendid visual experience due to rich colors. It has no home button but features a non-clickable fingerprint sensor on the front of the phone at the bottom used to wakes and locks the display.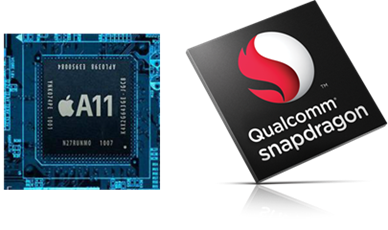 iPhone 8 vs. Moto Z: Processor
A11 Chip vs. Qualcomm Snapdragon 820 processor
A11 chip is confirmed as processor of iPhone 8. As a successor to A10, it can deliver faster and more efficient performance as well as better battery life. 3GB RAM will be included in iPhone 8 Plus while 2GB for iPhone 8. Expanded storages are introduced to iPhone 8 with two options, 64GB and 256GB.
Moto Z is proved to be a faster Android smartphone with Qualcomm Snapdragon 820 processor and 4GB RAM. However, it seemingly can't keep pace with iPhone 8 on multi-tasking handling for A11 works better than Snapdragon 820 on performance. Moto Z provides 32GB/64G internal storage options and includes a microSD slot allowing you to increase the capacity up to 2TB theoretically.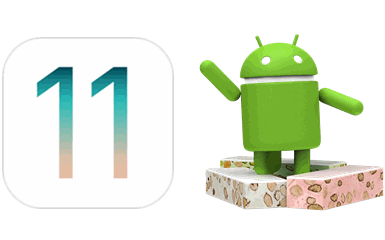 iPhone 8 vs. Moto Z: OS
iOS 11 vs. Android 7.0 Nougat
At WWDC 2017, Apple announced iOS 11 and will release this improved operation system in fall with iPhone 8. Improvements and new features of apps (Siri, Message, Apple Pay etc.) on iOS 11 can make iPhone 8 to be a smarter assistant with you.
>> Further Reading: Update to iOS 11, Jailbreak iOS 11
Android 6.0 Marshmallow is the initial OS of Moto Z and upgradable to newest Android 7.0 Nougat. Battery, security and quick settings are improved in this new Android OS. Vulkan API which gives high-performance 3D graphics and VR mode can drive you to have better experience on gaming and movie watching.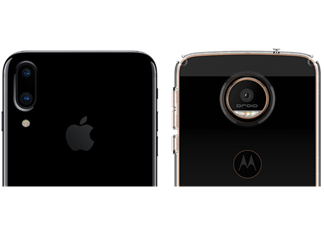 iPhone 8 vs. Moto Z: Camera
12MP standard camera/wide-angle and telephoto cameras vs. 13MP rear camera/5MP front camera
Two standard models of iPhone 8 will integrate camera system used on iPhone 7, single camera for 4.7-inch iPhone and dual-lens for 5.5-inch iPhone. All camera models will include optical image stabilization and support 3D photography effect. Front-facing camera keeps as traditional modules but enables 3D sensing and modeling.
Moto Z uses single 13MP rear camera with 1.12um pixel and f/1.8 aperture. It supports optical images stabilization and laser autofocus. Similar to iPhone 8 on video recording, it can shot 4K video at 30fps, 1080p at 60fps/30fps and slow motion at 120fps. The 5MP front camera with f/2.2 aperture and 1.4um pixels can help capture better selfies in low light environment.
iPhone 8 vs. Moto Z: Battery and Charging
Same battery as iPhone 7/wireless charging vs. 2,600 mAh battery/quick charging
The battery is the same as which uses on iPhone 7 lasting 14 hours for talking, 12 hours for internet using. An inductive-style wireless charging solution works for iPhone 8 with matched charging accessory. Moto Z builds in a 2,600 mAh batter which reaches up to 30 hours mixed usage. The TurboPower charger included in box can give a fast charging, only 15 minutes to get up to 8 hours of power.
iPhone 8 vs. Moto Z: Price
iPhone 8 price varies models, $699 for iPhone 8 64GB/$849 for iPhone 8 256GB and $799 for iPhone 8 Plus 64GB/$949 for iPhone 8 Plus 256GB. Moto Z is started at $624. If you want to buy the 64GB model, more $50 should be paid.
Verdict: From the above comparisons between iPhone 8 and Moto Z, it is obvious that iPhone 8 stands out on performance and camera, while Moto Z has bigger screen and better resolution. iPhone 8 has a bit expensive price which may prevent you from buying it while Moto Z is in a modest cost. It is hard to answer "Which one is worth to buy, iPhone 8 vs. Moto Z?" Depending on your own needs and get the most appropriate mobile for yourself.
Please feel free to share this tutorial if you think it is helpful!