Best iTunes Alternative for Transferring Any Files between Computer and iPhone 7/SE etc.
No matter you wanna export any (large) files off your iPhone 7/SE/6, as well as iPad and iPod series to computer for storage free up, or just need to add some media files from computer to iOS based devices while being enough of iTunes, WinX MediaTrans offers 3-click solution at extremely fast file transferring speed.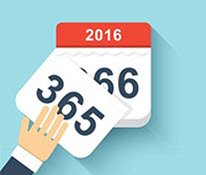 iPhone 7 vs Surface Phone
#1. Release Date
Microsoft was reported to put Surface Phone into test in 2012 and the early rumor about release date hinted it would be release in 2016. However, the newest news say Microsoft Surface Phone is slated to be released in spring 2017, earlier or the same time with Windows 10 Redstone 2.
If it goes in this way, iPhone 7 debuts earlier than Surface Phone in a few months in September, 2016.
Winner: iPhone 7
iPhone 7 vs Surface Phone
#2. Specs/Features Comparison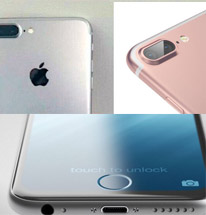 • iPhone 7 specs: Apple is said to continue releasing two versions of iPhone in 2016, and they are iPhone 7 and iPhone 7 Plus - 4.7 and 5.5 inches respectively with QHD display of 1334 x 750 and 2560 x 1440 resolution.
iPhone 7/Plus features Sapphire glass and applies A10 processor (made up on a 16-nanometer process be more energy-efficient and quicker), 3GB of RAM, pressure-sensitive Home button, bigger battery life (2 hours/1 hour longer than iPhone 6s and 6s Plus) and improved dual-lens camera (only for iPhone 7 Plus).
As to the body thickness, iPhone 7/Plus becomes thinner by getting 3.5mm headphone jack off, which means iPhone 7 can just be connected wirelessly using Lightning port and Bluetooth headphones.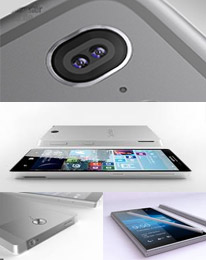 • Surface Phone specs: Microsoft must put a strong product out after abandoning Lumia phone. To create a more powerful smartphone, it's reported Microsoft will apply the advanced Qualcomm Snapdragon 830 onto this new phone to handling the speed of up to 8GB of RAM. Because most 2016 flagships are just using Snapdragon 820 chip.
Will Surface Phone be with 8GB of RAM? Rumors just indicated the RAM capacities may be 4 or even 6GB, and the internal storage may come in 64GB or 128GB, with 256GB microSD card supported. This 5.5-inch Windows 10 phone with AMOLED display, 1440x2560 pixel screen resolution is also rumored to feature Intel chipset with x86 processor CPU that makes Win32 app running feasible.
Also 21MP PureView rear lens/8MP Zeiss Wide-Angle lens, wireless charging function and USB Type-C may be used on Surface Phone. If it removes 3.5mm headphone port, too, this mobile handset will carry a Surface Pen just like Samsung Galaxy Note 5.
Winner: Microsoft Surface Phone
iPhone 7 vs Surface Phone
#3. Price Comparison
The price of iPhone 7 and 7 Plus in 32 GB is priced at $649 and $769 in US. And according to the above mentioned specs and features roundup, Microsoft Surface Phone may be around $700-$1,000. Of course it will vary from locations and GB memories. 
Winner: iPhone 7