iPhone 7 vs Galaxy S8: Release Date
Apple never breaks its timeline for its smartphones' release, so does Samsung. Therefore, we believe that iPhone 7 will launch in September 2016 while Samsung Galaxy S6 in March 2017. The earlier coming iPhone 7 takes the leading position. On the other hand, Samsung loyal fans are suppose to wait for new S8.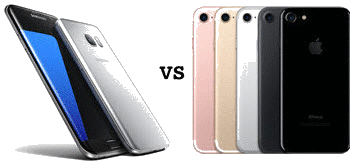 iPhone 7 vs Galaxy S8: Display
iPhone 7 keeps 4.7-inch screen and Retina display with a resolution of 1334x750 pixels as iPhone 6s. Samsung smartphones always boast bigger screen and higher resolution. Galaxy S8 features a 5.2-inch screen and super AMOLED display with a resolution of 4096 x 2160 pixels supporting 4K playback. What's more, a foldable display is rumored to show on Galaxy S8 offering conveniences to carry the phone in pocket.
>> Play 4K Videos on iPhone iPad
iPhone 7 vs Galaxy S8: Design
• There are two design changes of iPhone 7 compared to iPhone 6s. One is removal of 3.5mm headpone jack which makes iPhone 7 become the thinnest phone ever. The other is no antenna bands on the back.
• Also, great new features go to iPhone 7. A water-resistant body helps iPhone 7 avoid spills, splashes, and dust. An advanced Home button is solid-state and pressure-sensitive.
• Five color options are offered, Rose Gold/Gold/Silver as iPhone 6s and new Black and Jet Black.
No exact leaks about Galaxy S8 design are revealed. Due to similar design of S7 and predecessors, we expect that S8 can do more on a new body. And, 4 colors are rumored to be available: Green, Black, Gold and White. USB Type-C is hoped to add to the spec list as well.
>> USB Type-C vs. USB 3.1 vs. Thunderbolt

iPhone 7 vs Galaxy S8: Processor & OS
iPhone 7 includes upgraded octa-core A10 processor to bring faster running speed. With new announced beautiful, advanced iOS 10, this upcoming Apple device can handle various operations more effectively. Galaxy S8 will be equipped with Snapdragon Qualcomm octa-core processor which is powerful on multi-tasking. OS for Galaxy S8 is must be Android but the version is not sure. Some people predict that Android 7.0, which may be released in October 2016, will be included in Galaxy S8.
iPhone 7 vs Galaxy S8: Camera & Battery
Apple probably applies no change on camera for iPhone 7 but dual-lens camera is available for iPhone 7 Plus (5.5-inch model) with 2-3x optical zoom to output great picture quality even in low-light condition. Certainly, 4K video recording still be a feature of iPhone 7. Galaxy S8 will have a 20MP rear camera and 9MP front camera.
Battery for iPhone seemingly has never satisfied users. The new iPhone 7 do improvements on battery life - up to 2 hours longer than iPhone 6s. Galaxy S8 will have a huge 4200 mAH battery.
>>How to Extend iPhone Battery Life
iPhone 7 vs Galaxy S8: RAM & Storage
2GB of RAM go to iPhone 7/Plus. Galaxy S8 gets larger RAM, 6GB. Speaking of Storage, iPhone 7 base storage expendes to 32GB and other two options are 128GB and 256GB. Galaxy S8 has two internal memory options, 64GB and 128GB with MicroSD card (up to 26GB) support.
>> How to Fix Problems Caused by iPhone 6/6 Plus 1GB RAM
iPhone 7 vs Galaxy S8: Price
The price starts from $649 for iPhone 7 and $769 for 7 Plus, which Samsung Galaxy S8 is rumored to start from $900. Price will vary depending on different locations and storage.
Please feel free to share this tutorial if you think it is helpful!