iPhone Security | How to Make your iPhone Secure
iPhone 12/11/Pro/Max/XS/X/8/7 Security Tips, Settings, Apps You Shouldn't Miss
Mobile security is an issue that concerns users as well as tech giant - Apple most. Apple has been devoted to updating security measures for its products. According to reports from The New York Times, Apple has been working on new security measures to make its iPhone harder to be hacked after FBI unlocked a killer's iPhone.
So, how to make use of the measures Apple provides to protect your iPhone? Apart from setting iPhone, what else can you do to secure your iPhone? This post will focus on iPhone security, and offer iPhone owners top 10 tips to keep iPhone 12/11/Pro/Max/XR/8/7 safe.
Transfer Data from Old iPhone to New iPhone 12/11
By making use of WinX MediaTrans, you can export photos, music, videos and more from old iPhone to computer, and then transfer the media files from computer back to new iPhone quickly and easily. This tool does help a lot when you need to transfer files from old iPhone to a new one, free up iPhone space, backup iPhone data, etc.
iPhone Security - Top 10 Tips to Protect iPhone 12/11
Here, the "protect" doesn't mean keeping iPhone from physical damage, but keeping the data safe and privacy from other people.
1. Enable passcode and Touch ID
Go to Settings, find Touch ID & Passcode option, and then you can choose to set a 4-digit numeric code, 6-digit numeric code or a stronger alphanumeric code.
Besides using a complex passcode to lock your iPhone for security, you can also use Touch ID which is still embedded in iPhone. Touch ID is the fingerprint sensing system which makes secure access to iPhone faster and easier.
2. Turn on Find My iPhone
This feature is extremely useful when your iPhone gets lost. It takes advantage of built-in GPS to pinpoint iPhone's location on a map to help you track it and find it.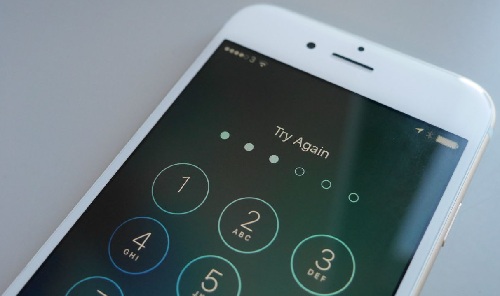 3. You may need to disable notification center, control center and Siri from lock screen
Although your iPhone is locked, iPhone security remains a question. This is because other people maybe a thief can turn on Airplane Mode to prevent tracking, use Siri to get your private information, and preview messages and updates from Notification Center. So, to keep your iPhone secure, you can disable the access of Control Center, Siri, Notifications View, and messages preview when locked.
4. Enable erase data
The Erase Data setting which is located at Settings -> Touch ID & Passcode can be turned on iPhone to erase all your data and settings if 10 failed attempts have been reached.
5. Use Privacy & Security of Safari
This tip is for iPhone internet security. We love surfing the internet on iPhone, but cookies, web history, and other information about your browsing may get recorded and tracked across the internet. So, how to make your browsing in iPhone private? It's easy, go to Settings -> Safari, and then you will see PRIVACY & SECURITY. Just turn on Do Not Track and Fraudulent Website Warning. One more thing, don't connect your iPhone to treacherous network.
6. Stay away from phishing scams
Another important tip to keep iPhone 11/Pro/Max/XR/8/7 secure is to stay away from suspicious websites and links. Don't open links in untrustworthy email messages and don't fill in personal information on a dodgy site.
7. Don't jailbreak your iPhone
As we have mentioned on "How to Jailbreak iPhone 7", jailbroken iPhone is easier to be attacked than non-jailbroken phone. So for the sake of iPhone's security, you're not suggested to do a jailbreak. If you can't resist the lure of jailbreaking, you'd better download a piece of powerful antivirus software.
8. Encrypt backup of your iPhone's data
After syncing your iPhone with computer, the data from your iPhone is also stored on your computer. That is to say, someone else can also get access to the data from the computer. If you want to keep these data safe and private, you should encrypt the backup in iTunes when you sync your iPhone. On the main sync page, navigate to Options section below the picture of your iPhone, and then you will see a checkbox named Encrypt iPhone backup.
9. Use best iPhone security apps
There are many top APPs for iPhone security. Here, we list best 3 security apps for iPhone 11/Pro/Max/XR/8/7 for different purposes.
1). Use System and Security Info app to check if your iPhone is jailbroken by hackers. To install malware on an iPhone, hackers first need to jailbreak the phone. You know much about jailbreak, but are likely kept in the dark when your iPhone is jailbroken by hacker. This is because it's easy for hackers to hide the evidence. Luckily, an app like System and Security Info will inform you when a jailbreak is applied.
2). Apply SurfEasy VPN to assist online exploits. If you need to safeguard your online privacy, unblock sites and apps, protect iPhone's safety when connected to Wi-Fi hotspots, etc, you can download this iPhone security app to have a try.
3). Download iPassword to keep password you use on your iPhone under strict lock and key. iPassword, using an impressive-sounding military-level of encryption, is a popular secure password manager on App Store, available to save your sensitive log-in information in one place.
Note: Before you buy security apps for iPhone at the App Store, make sure you're clear on what the app does and doesn't do.
Also check: Best Free iPhone Data Recovery Software
10. Regularly update your iPhone's firmware
Apple provides frequent firmware updates that are not limited to bug fixes and security fixes, but also include additional security features.
Above are the most important tips to keep iPhone 7, iPhone 7 Plus and iPhone 8, iPhone X, iPhone XS, iPhone XS Max and iPhone XR secure and privacy. Hope this roundup can help you.
Please feel free to share this tutorial if you think it is helpful!