How to Fix iPhone 7/7 Plus Won't Charge Problem?
Why won't iPhone 7/7 Plus charge? It perhaps because the iPhone 7 charging port is filled with dust, the iPhone 7 charging cable isn't working, etc. Possible reasons and fixes are listed below.
Fix iPhone 7 Won't Charge - Hardware Problems and Solutions:
1. Check your iPhone 7 charging cable and USB adapter to see if it has some damages, like breakage or bent prongs. You can also borrow a charging cable from friends or families or change new accessories to have a try. Just be aware that low-quality 3rd-party iPhone charger cables may also cause iPhone charging probelms, so iPhone 7 original charging cable is recommended.
2. If you connect your iPhone 7 with computer and find it is not charging, you may use a wall power outlet and check for firm connections between your charging cable, USB wall adapter, and wall outlet, or try a different outlet to see if the iPhone 7 charges. >> How to Fix iPhone 7 Not Connecting to Computer
3. Use a toothpick or a small needle to clean the charging port on the bottom of your iPhone to remove any debris, then firmly plug your charging cable into your iPhone. If the charging port is damaged, your device may need repair service.
4. Turn off the iPhone 7 and charge it for a few minutes or half an hour. If you didn't see the charging screen within an hour, check if the accessories are defective or firmly connected.
Fix iPhone 7 Won't Charge - Software Problems and Solutions:
1. Some software glitches may also cause your iPhone 7 not charging. You may force restart your iPhone 7: Press and hold the Sleep/Wake and Home buttons at the same time for at least 10 seconds, until you see the Apple logo. Then let your iPhone 7 charge for another half hour again.
2. Check software update and make sure you have installed the latest version of iOS. Go to Settings > General > Software Update > Download and Install.
3. If your iPhone 7 still won't charge or turn on, try to restore your iPhone 7 to factory settings in iTunes.
a. Connect your iPhone 7 to iTunes on Mac or Windows PC via Lightning or 30-pin Dock connector. >> iPhone iTunes Connect Errors and Fixes
b. Click on the Device icon at the top left in iTunes and click Backup to backup iPhone 7 data. >> Best iPhone 7 Backup Software
c. Click Restore iPhone to start restoring the device. Once the process is completed, your iPhone 7 will reboot. Follow the steps to set your iPhone 7. They try to charge your iPhone 7 again.
If all the measures failed and your iPhone 7 still won't charge or turn on, you can bring your iPhone, charging cable, and charging USB adapter to an Apple Retail Store or Apple Authorized Service Provider for evaluation and repair. You can also contact Apple Support for help.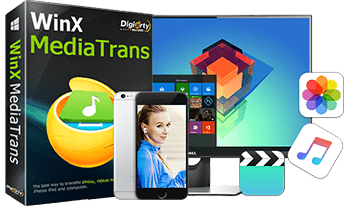 Transfer Photos, Music, Videos, iBooks, Ringtones from/to iPhone (8) with WinX MediaTrans
1. Transfer video: Sync videos, movies between iPhone iPad and computer. Convert video to MP4.
2. Photo transfer: Transfer photos from/to iPhone iPad. 1000 photos transfer only costs 1 minute.
3. Sync music: Transfer music from/to iPhone iPad. Edit songs. Convert music to AAC/MP3.
4. Free DRM: Transfer iTunes music, movies, and audio books along with DRM releasing.
5. iBooks manager: Transfer iBooks from/to iPhone iPad. Convert EPUB to PDF, TXT, HTML.
6. Ringtone maker: Make free iPhone ringtones from any favorite song.
7. Flash drive: Turn iPhone iPad into flash drives to store PDF, Excel, Word, etc.