Google Pixel/XL vs Apple iPhone 7/Plus | Two Best Ever Mobile Comparison in Android and iOS
Put the newly-released Google flagship Pixel (XL) vs another flagship gadget from Apple, iPhone 7 (Plus), which one is better?
After Nexus mobile line-up, Google launched its first pure Android smartphone - Pixel with a XL version in October 2016, over one month after the iPhone 7's release. Being taken as the best ever Android phone, Pixel runs on the latest Android 7.1 Nougat, supporting GIFs in Messenger App. Many reports claimed the Pixel would head to head in speed test before. After its releasing on Oct. 20, whether the real model performs as the prediction said, let's first have a look at the Pixel vs iPhone 7 Plus speed testing videos:
• Google Pixel XL vs iPhone 7 Plus - Fingerprint Scanner Speed Test:
https://www.youtube.com/watch?v=G5o5LTJnopQ
• Google Pixel XL vs iPhone 7 Plus Camera Test Comparison:
https://www.youtube.com/watch?v=6Nv6j6tv2xM
[NEW/HOT] iPhone 8 vs Pixel 2: Google Has Prepared Well for This Battle of 2017
Why the gadgets all perform well in reaction speed and picture shooting quality? Their top-rated specs are the key points.
Transfer Data from Old iPhone to New iPhone 7
By making use of WinX MediaTrans, you can export photos, music and videos from old iPhone to computer, and then later transfer the music/videos from computer back to new iPhone 7. This tool does help a lot when you need to transfer files from old iPhone to a new one, free up iPhone space, backup iPhone data, etc.
1. Pixel vs iPhone 7 Specs Comparison
Release date: October, 2016 vs. September, 2016
OS: Android vs. iOS 10
Size: 143.8 x 69.5 x 7.3 ~ 8.5 mm vs. 138.30x 67.1 x 7.1 mm
Weight: 143g vs. 138 g
Display: 5.0 inches QHD AMOLED 1920x1080px at 441ppi vs. 4.7 inches Restina HD 1334X750px at 326 ppi
Processor: Qualcomm® Snapdragon™ 82, 12.15Ghz + 1.6Ghz, 64Bit Quad-Core vs. A10 Fusion chip with 64-bit architecture, Embedded M10 motion coprocessor
Camera (Main/Front): 12.3MP/8MP v.s 12/7MP
Video Recording: 4K at 30fps; 1080p at 30/60/120fps; 720p at 30/60/240fps vs. 4K at 30 fps, 1080p HD at 30/60 fps; 720p HD at 30 fps
Battery: 2,770 mAh vs. 1960mAh
Memory: 4GB RAM vs. 2GB RAM
Connector: USB Type-C, 3.5-mm audio jack - Lightning vs. connector with microphone and stereo speaker built in
Color: Black/Silver/Blue vs. Rose Gold/Gold/Silver/Black/Jet Black
Capacity: 32 GB/128GB vs. 32/128/256GB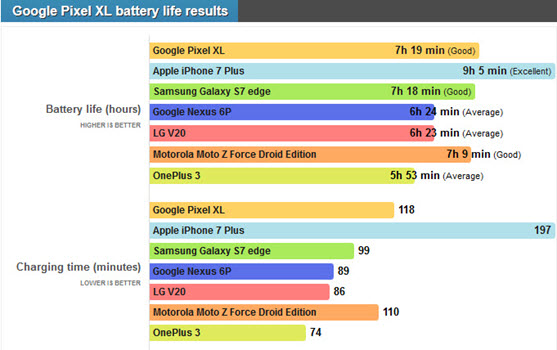 2. Pixel XL vs iPhone 7 Plus Specs Comparison [The same content as above Pixel - iPhone 7 are omitted.]
Size: 154.7 x 75.7 x 8.5 mm vs. 158.20 x 77.90 x 7.30 mm
Weight: 168g vs. 188 g
Display: 5.5 inches QHD AMOLED 1920x1080px at 534ppi vs. 5.5inches Restina HD 1920x1080px at 401 ppi
Camera (Main/Front): 12.3MP/8MP vs. 12MP wide-angle and telephoto two cameras/7MP
Battery: 3,450 mAh vs. 2910 mAh
Memory: 4GB RAM vs. 3GB RAM
The specs of both mobiles are neck and neck, while the most distinguished difference are iPhone 7/Plus has ditched the 3.5 mm headphone jack, and iPhone 7 Plus is equipped with dual-lens camera. Although Pixel owns longer battery life than iPhone 7, iPhone 7 Plus is proved to last two more hours when 7 Plus and Pixel XL are both in use according to a famed mobile phonearena blog.
Hot Related Readings:
Fix iPhone 7 Won't Have Headphone Jack | Free Download 4K 60fps Videos from YouTube
[FAQ] USB Type-C vs. USB 3.1 vs. Thunderbolt | Rip DVDs or ISO File to USB Type-C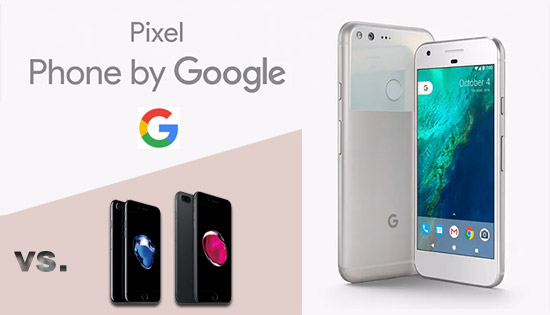 3. Pixel/XL vs iPhone 7/Plus Price Comparison
| | | | | |
| --- | --- | --- | --- | --- |
| Model | Storage | USA | UK | Australia |
| Pixel | 32 GB | $649 | £599 | AU$1079 |
| | 128 GB | $749 | £699 | AU$1229 |
| iPhone 7 | 32 GB | $649 | £599 | AU$1079 |
| | 128 GB | $749 | £699 | AU$1229 |
| | 256 GB | $849 | £799 | AU$1379 |
| Pixel XL | 32 GB | $769 | £719 | AU$1269 |
| | 128 GB | $869 | £819 | AU$1419 |
| iPhone 7 Plus | 32 GB | $769 | £719 | AU$1269 |
| | 128 GB | $869 | £819 | AU$1419 |
| | 256 GB | $969 | £919 | AU$1569 |
The listed pricing of Pixel/XL and iPhone 7/Plus shows Pixel places itself at the iPhone 7-level in price, Pixel/XL is priced the same as iPhone 7/Pus with the same storage, which undoubtedly makes Pixel the strongest opponent to iPhone 7 in the 2016/17 mobile market.
4. Will you decide to purchase Pixel after reading Pixel review in other aspects?
Pixel brings breakthrough in Android phones mainly in two aspects. One "made-by-Google", which means better and tighter hardware and software integration like what iOS to iPhone. The other one is the introduction of Google Assistant, which can have a smoother, more flowing and natural conversation with user, and also can execute more orders than Siri like playing games, reciting poems, asking riddles, translating and showing query suggestions.
Intimately, a Quick Switch adapter will packaged in Pixel box, which makes transferring data from an iPhone to the Pixel free, simple and fast. The setup process for the Pixel also features a new look. Better still, every Pixel owner will get an unlimited Google Photo storage for saving whatever media or other files into cloud. In this way, free 5GB iCloud pales by comparison.
Summary: Pixel may be in an inferior position in some aspects, but there's no dispute it's the best Android phone ever. No matter you're an iFan or not, Pixel/XL must be your first consideration if you plan to switch your cellphone.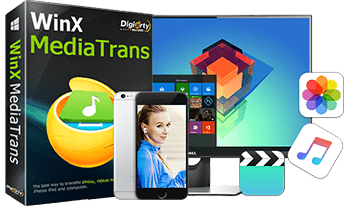 iPhone (7/Plus) File Manager Recommend - WinX MediaTrans [iOS 10 and macOS Sierra Supported]
This iPhone manager is spedially designed to send iPhone photo to computer for file backup, space releasing or other purposes, and trasfer songs/videos between iPhone and computer. Meanwhile, it is available to free transfer all kinds of files to iPhone, making iPhone as a flash drive.