Q: When Is Mother's Day (2019)? How to pick up exquisite Mother's Day present for mom?
I've never celebrate the Mother's Day with my mom before, and 2019's Mother's Day is around the corner, I decided to give my mom a surprise this year. Please give me some feasible Mother's Day ideas, like what gifts are recommended to chosen for mom...
Best Answer:
When Is Mother's Day (2019)?
Generally, Mother's Day is the second Sunday in May and the date this year is May 12nd.
However, it also depends on what country you live in. For example, 2019 Mother's Day in UK lies in March 10, USA/South Africa/Australia/New Zealand May 12.
Mother's Day Ideas/Traditions
Carnations: Carnations flowers is now regarded as the must-sent gift on Mother's Day. Wearing this flower is also a custom while it's gradually formed that wearing a red one means your mother is living and a while one means dead.
Commercialization: United States annually celebrate Mother's Day so that it's not only a festive, but also a commercially occasion for people to go out to consume, dining, shopping, watching movies or travel.
Mother's Day Gifts/Present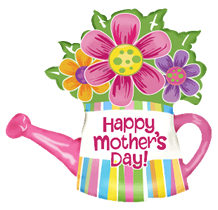 Here we list some common gifts for your reference, but the actually gift you would make or buy to your mom actually depends on what your mom really like and how much you can spend:
• Breakfast in bed;
• Flower, Chocolates, Simple but delicate necklace (that reflects family and love), Beautiful dress;
• Mother's Day paper card or e-card;
• Photo Frame or photo slideshow with a picture of both of you;
• A nice day/evening out with you or the whole family (dinner, Mother's Day songs/music, Mother's Day movie or theme concert);
• Hugs, kisses and "I Love You"!! (Most important)
▶ Brief History of Mother's Day
The earliest history of Mother's Day can be traced back to the ancient annual spring festival the Greeks dedicated to maternal goddesses Rhea, the mother of many deities.
And the more recent history of Mother's Day dates back to 1600s in England. At that time, Mothering Sunday was celebrated annually on the fourth Sunday of Lent (the 40 day period leading up to Easter) to honor mothers. Firstly, they would have a prayer service in church to honor Virgin Mary. Afterwards, children, be they servants, apprentices or others, brought flowers or other Mother's Day gifts to honor their own moms. However, this custom almost died by the 19th century, until a president asked for a national day to honor those mothers in early 20th century. Through years of resolution, more and more countries passed the law designating the Mother's Day.