Best Answer
Physically, to remove small scratches from the disc surface can revived your DVD. Here're 4 methods which are available to fix slightly scratched DVDs.
1. Clean DVD with Rubbing Alcohol
Get a rough cloth – for example a cloth for cleaning eyeglasses and put a small amount of alcohol on it. Hold the disk with one hand and gently wipe it from the center to the edge until scratches become invisible. Then, dry the disc and put it into DVD player to check if it is readable.
2. Use Toothpaste to Remove Scratches from DVD
Dab a small amount of toothpaste and slowly wipe it into the scratches on disc with your wet figures. Rub from inner to outer in a straight line, no circles. Keep rubbing the scratches for 60 seconds and then wash off toothpaste. After the disc is dried with a clean soft cloth, put it in DVD player to see if your DVD works well.
3. Banana Is a Great Tool to Fix Scratched DVD
Peel a Banana and cut one piece. Softly wipe the cut piece into scratches on disc from inwards to outwards. After wiping enough times, remove banana residue under warm water. Dry off the disc and check if it plays correctly with DVD player.
4. Vaseline Is also Available to Repair Smudged DVD
Get Vaseline and gently rub it to cover the whole surface of the disc. Wipe from center to the edge in a straight line and don't make it too thick. Then, remove Vaseline with a soft clean cloth. Dry it and insert it into DVD player to see if the method can fix the issue.
Above methods are most likely to remove small scratches from discs and comes into ineffective when deep and big scratches exist. To fix severely scratched DVD, it is highly suggested to extract DVD video as a digital file from disc for better saving on hard drive.
WinX DVD Ripper Platinum is the best program to rip DVD to digital. It can deal with a wide range of discs, although they are badly scratched/damaged or strictly encrypted with copy protections: CSS, region code, RCE, ARccOS, Disney DRM and more special schemes. It can convert DVD to MP4, AVI, WMV, FLV, 3GP, WebM etc. With the support of hardware acceleration, this program can take full advantage of graphic cards (Intel, NVIDIA, AMD) to greatly speed up DVD ripping while keeping high quality.
The following tutorial will tell how to fix scratched DVD by digitalizing with WinX DVD Ripper Platinum.
1. Download and install this WinX DVD ripper on your computer.
System Requirements: Windows 10 and lower; macOS Mojave and lower
2. Insert the scratched disc into DVD drive and launch this program.
3. Click DVD Disc and select the source DVD.
4. All DVD titles are loaded and main title is auto checked. At the same time, Output Profile appears. Select the output format, for example MP4 Video (codec: h264+aac) under General Profiles category. Then, click OK.
5. Click Browse button to set a new destination folder.
6. Click RUN button to start digitizing this scratched DVD.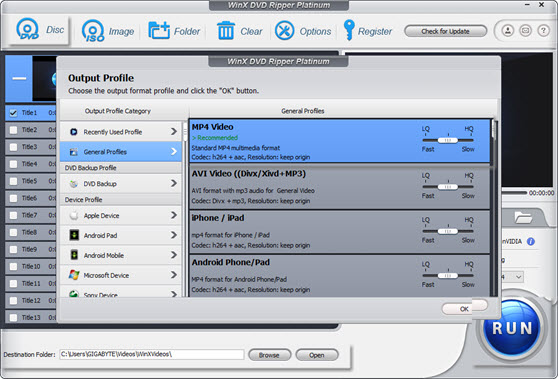 To sum up: Small scratches can be removed from DVD discs by cleaning proper materials but if you have a DVD severely damaged, to make a digital copy of the disc is the best way to protect and preserve DVD data well.