How to Download Country Restricted YouTube Videos
Q: How to Fix the YouTube Blocked Video Playing Errors? How to Play Country Restricted YouTube Videos?
Dear all, I'm here in Germany where a large number of music videos have been made unavailable since November 2015 mainly because of the copyright issues. Now I badly want to watch some most popular video on YouTube, either online or offline. How can I download the country restricted YouTube videos to my server or hard drive?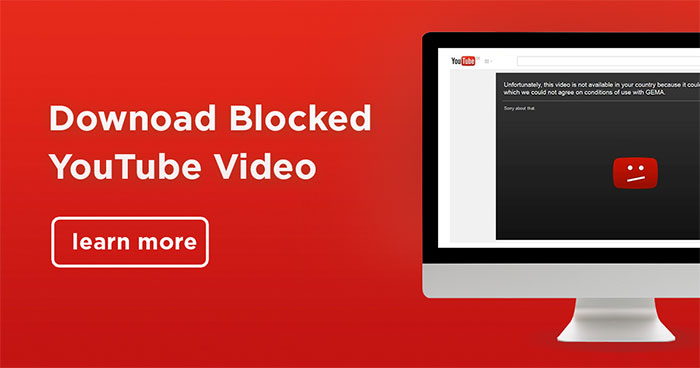 Best Answer:
It is intractable to watch private videos, blocked videos or videos deleted by YouTube, neither to watch or download country/region restricted YouTube videos. Although YouTube is an acknowledged online media sharing hub, it is not always accessibleness for people in different countries. Some YouTube videos are not available for visitors from countries with geographical restrictions. For example, if a video is located in the U.S, it probably cannot be played in Europe, and videos blocked by some of the countries ISPs will block YouTube by the Government orders.
When you are from a non-allowed country and are trying to open a YouTube video, you will get the message "This video is not available in your country". How to fix such problems?
There are at least 3 ways you can try for watching the (YouTube) videos which are restricted to specific countries or regions:
1. Change your IP location
You can either use a VPN or download some extension for your browser, e.g. TamperMonkey (Chrome, Firefox, ect.) to change your IP address for free through the browser.
2. Use YouTube proxy sites
YouTube proxy sites can be used as video unblocker to unblock the videos that are not available in your country. Point your browser with proxy sites and enter your desired YouTube URL, you'll start playing the YouTube videos;
3. Change the video URL and download the video
If the blocked video URL is https://www.youtube.com/watch?v=26LiAfCDQeQ, just replace http://www. or https://www. with ss. Then click on the Download button according to your choice of video quality.
When you have a VPN or are in a non-restricted location, you can download the country/region limited videos with some online YouTube downloaders/converters like KeepVid, Video Grabby and cliponverter, or download a video downloader app instead. Consequently, you are able to play back such videos anywhere anytime.
Grab WinX YouTube Downloader to Download Blocked YouTube Videos Now
The best free online video downloader for Windows users (Windows 10 compatible). It downloads any videos you see on YouTube (Vevo), Facebook, Vimeo, Yahoo, MTV, Break, CNET, and downloads music (audio files) from Soundcloud, etc. Any video resolutions are enabled to be downloaded, included 4K/8K UHD and 3D videos. You can also convert the downloaded country restricted videos to iPad, iPhone, Android, Windows 10 mobiles, PSP, Xbox, Apple TV and so on with an HD video converter.