How to Free Download YouTube Funny Videos for Kids
Get a useful tip to free download YouTube funny videos for kids 2014 here and enjoy funniest videos with your kids anytime anywhere.
Kids are cute, sweet and usually hilarious to make every parent feel warm and happy. However, they are too innocent to hide their anger, impatience and even act brutally but honestly. For example, they cannot bear always staying on the car during a long-time journey or feel irritated with no toys around. At that time, you should learn how to comfort the unhappy child. To play YouTube funny videos with colorful images, exaggerate moves, cheerful kids music is a good choice to appeal children.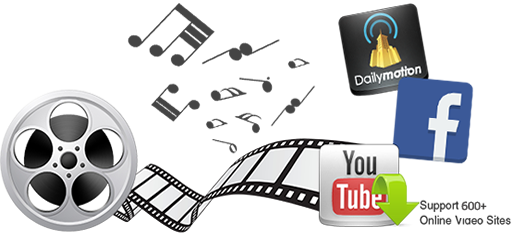 Free Download YouTube Funny Videos for Kids?
WinX YouTube Downloader

Free download YouTube funniest videos for kids.

WinX HD Video Converter Deluxe
Download and convert funny videos for kids from/for YouTube.

WinX HD Video Converter is a handy application that allows you to convert your video files to High Definition with no effort at all
- Cosmin Anton (Softpedia Editor)
There are plentiful of funny videos collected into a variety of categories and channels on YouTube, where you should pick out the most appropriate funny videos for kids. And I gather the following YouTube funniest videos for kids in 2014 for reference.
1. The Gummy Bear Song (439,526,079 views)
2. The Duck Song (161,400,206 views)
3. Evian Baby & Me (90,197,350 views)
4. Muppet Show - Mahna Mahna (47,678,397 views)
5. Minions - Banana (37,006,771 views)
6. "I Like to Move It" Madagascar 2: Escape 2 Africa (33, 559, 770 views)
7. I Like To Dance - Yo Gabba Gabba! (31,445,323 views)
8. Happy Hippo The Lion Sleeps Tonight (31, 351, 390 views)
9. Potty Training (Flowgo) (25,138,024 views)
10. Jessica's "Daily Affirmation" (14,479,043 views)
How to Free Download YouTube Funny Videos for Kids
In order to play the above videos on PC/Mac or portable devices offline without ads and buffering, it is necessary to get a free YouTube funny kids video downloader in that lots of YouTube videos cannot be downloaded because of authors' permissions. WinX YouTube Downloader is a totally free tool to offer a simplest and fastest solution to free download any YouTube funny videos for kids and other hot YouTube videos, such as 2014 FIFA World Cup theme song, opening ceremony videos and so on.
YouTube Funniest Kids Videos Free Download Guide: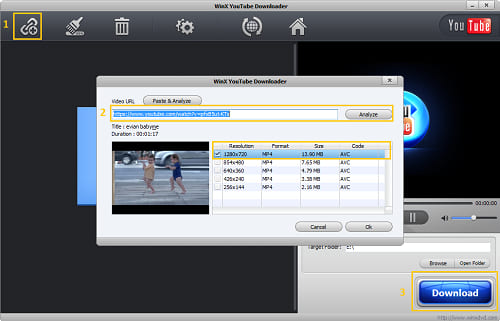 Step 1: Hit "Add URL" icon to access another smaller window for getting video info.
Step 2: Copy YouTube URL of funny kids videos and paste it to address bar. Click Analyze button on the right of address bar. Several seconds later, the video title, duration and different options about resolutions, sizes, formats and codec will be shown. Select one option and click OK to add video to download list.
Step 3: Set target folder to save funny kids videos and hit Download button.
The upgrade version of WinX YouTube Downloader, WinX HD Video Converter Deluxe allows you to free download YouTube funny videos for kids as well. Moreover, it is capable of creating kids photo to a slide show video with lullaby and convert recorded kids videos to MP4/FLV for uploading to online website, YouTube, Facebook etc, and sharing with family & friends. If necessary, you can crop, trim, merge videos and add subtitle for video with WinX HD Video Converter Deluxe.