How to Convert or Compress 4K Ultra HD Resolution Videos on PC or Mac?
About 4K Ultra HD Video
4K Ultra HD (4K UHD) video itself refers to the video of a pixel resolution of 4096x2160 (4,000 pixels, 8.8 megapixels, 17:9 aspect ratio) mainly for digital cinema, or of a resolution of 3840× 2160 (8.3 megapixels, 16:9 aspect ratio) mainly for Ultra HD television.
It is four times of the resolution of 2K projector and 1080p HDTV. At 4K resolution, every single details and Close-ups on the image can be seen. If adopting the amazing 4096x2160 UHD resolution in cinema, a film can deliver an indescribable and unprecedented enjoyment for audiences at any angle for the crystal clear picture, sparkly bright color and Hyper-reality sound (if any).
Future Trend of 4K Ultra HD Resolution
4K resolution is widely predicted to be the main development trend of video resolution, which is on the way to all of us, although 1080p High Definition format has not yet been covered wholly. 4K resolution is able to offer over 8.8 megapixels cinema-class image effect.
However, it is also costly to achieve 4K Ultra HD, for the data amount of each frame is as big as 50MB. That is to say, the facilities of top configuration are required for both decoding, playing and editing a 4K Ultra HD video.
HOT Search: HD video converter, Download 4K Movies, Play Video on 5K iMac, Download Play 4K Video, CBR to VBR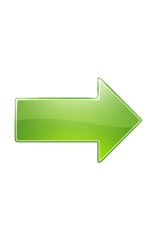 How to Compress/Convert 4K Ultra HD Video?
WinX HD Video Converter Deluxe/for Mac

Best 4K Video Converter for Windows/Mac to download 4K UHD videos from YouTube, convert and compress 4K resolution 4096x2160 or 3840x2160 video...


WinX HD Video Converter Deluxe is a simple-to-use program which comes with advanced features for encoding video files. - Editor's Review from Softpedia
Is There Any Tool to Convert/Compress 4K Ultra HD Videos?
With the popularization of such advanced technology, there must be numbered tools and utilities to convert and compress the lumpish ultra HD videos. Just like the way it is dealing with 1080p HD videos, WinX HD Video Converter Deluxe is surely in the support of converting 4K UHD videos in any formats faultlessly, seeing that it already has over 320 video codecs & 50 audio codecs to embrace almost all existing video types at present.
So, no matter the 4K Ultra HD videos are in MP4 (AVC coder) or other extension, WinX HD Video Converter Deluxe is believed to get over the hurdles.
Download and Convert 4K Ultra HD Videos from YouTube
YouTube allows users to upload and share a video with the resolution of 4096x3072 pixels (12.6 megapixels, aspect ratio 4:3). WinX HD Video Converter Deluxe helps download the Ultra HD Video from YouTube and convert 4K video to AVI, MP4, MPEG, WMV, MP3, MOV, FLV, MTS and so on.
Step 1. Download WinX HD Video Converter Deluxe or (HD Video Converter for Mac) on a PC or Mac, install and run it.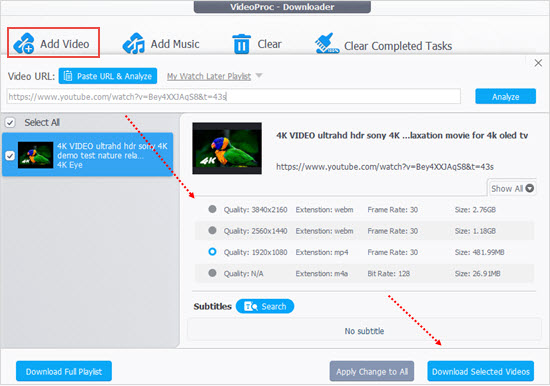 Step 2. Find a 4K Ultra HD (UHD) video source from YouTube, and click "YouTube URL" button on the top of the UI of the video converter, and then "Analyze" the YouTube 4K UHD video. Just choose an option listed with different resolution, format, size and code and click OK to download. It takes less than 5 minutes to download a video of about 0.5G.
Please note that 4K UHD video has very high requirements on the configuration of computer. Your computer may be crashed due to the incompatibility with such video if the resolution, graphics card, etc are not highly configured.
Step 3. Choose an output format on a smaller window of this 4K video converter which accords the format you want the output 4K Ultra HD video to become, be it AVI, MOV, MPEG, WMV, FLV, etc.
Step 4. Make any other personal settings you need and hit RUN button to start converting any 4K YouTube Ultra HD videos.
Convert HD Videos for 4K Ultra HD TV
The television industry has adopted ultra high definition television (UHDTV) as its 4K standard. 4K UHDTV is 2016p and 3840 pixels wide, having an aspect ratio of at least 16:9. Can 4K UHDTV play original HD videos? The answer is yes. The principle is almost similar to that of playing a standard video on an HD TV.
WinX HD Video Converter Deluxe now can accept 4K videos as the input (Say, convert a 4K UHD video to a 2K HD video or a SD video), and will soon keep pace with converting other videos for 4K Ultra HD TV if you need to play ordinary HD video on 4K UHDTV .
How to convert video on PC/Mac for 4K UHDTV?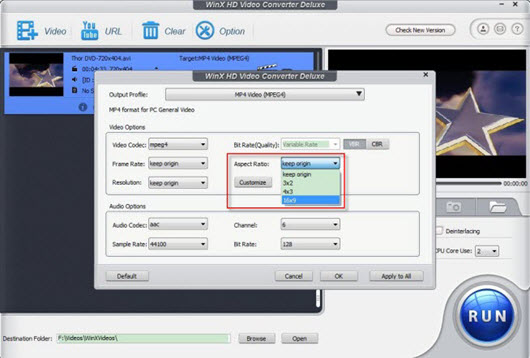 Step 1. To begin with, download the 4K UHD video converter for Win or 4K UHD video converter for Mac) on a PC or Mac, install and run it.
Step 2. Import your source video. The HD video converter supports various formats of videos.
Step 3. Choose an output format compatible with and corresponding to your display device. WinX HD Video Converter Deluxe allows you to change video resolution, as well as the aspect ratio, from 4:3 to 16:9, to faultlessly fit the 4K Ultra HD TV.
Step 4. Make other video audio settings according to your needs and click RUN button to start converting video for 4K Ultra HD TV.
Step 5. Find the output video file in your computer, and transfer the video to 4K UHDTV by use of HDMI or the like.
Still have problem about converting 4K video on PC/Mac? Please feel free to Email Us >>